Gatlinburg Golf Course
Named "Best Municipal Golf Course in Tennessee" by Golf Digest
Greens Aerification took place March 8th and 9th.
COVID-19 : Gatlinburg Golf Course Update:
The Golf Course is open providing an outdoor activity for guests to enjoy! Our Clubhouse will open at 8:00am and close at 6pm daily. Carts will be due back to the clubhouse at 7:30pm daily beginning March 14th. The following are ongoing safety measures taken at our facility.
In adherence to Sevier County Executive Order, masks will be required in the clubhouse and all indoor areas.
- Our Clubhouse is open, strict adherence to social distancing requirements will be in effect.
- Calling in to pay without entering the clubhouse is an option for our guests at 865-453-3912.
- Plexiglass barrier at the golf shop counter and snack bar counter.
- Our Snack bar is open. No outside food or beverage. Limited seating available.
- Gatlinburg Golf Shop is open.
- Golf Cars will be cleaned and high-touch areas will be disinfected after every use.
- Flagsticks have foam around them to make the ball easily retrievable. It is the customer's option to touch/take the flagstick out.
-Single rider option.
-Bunker Rakes and Golf Ball Washers have been removed from the course.
-No drinking water or beverage cart will be on the course. You may bring your own drinking water or purchase from the snack bar.
We thank you in advance for your compliance and understanding of these measures taken.

Teeing off is a little different in the mountains. The natural landscape in Gatlinburg makes for quite a few uniquely designed holes. Grab your clubs and test your skills on the beautiful Gatlinburg Golf Course, situated in the foothills of the Great Smoky Mountains. The course features some of the most picturesque rolling hills in the area.
After a half-million-dollar renovation to several holes in 2007, Gatlinburg Golf Course provides a unique golfing experience in a spectacular mountain setting. From scenic mountain views to one-of-a-kind holes, golfing in the mountains is a fun and exciting experience for new golfers and golf enthusiasts alike. Our challenging layouts, emerald fairways, beautifully wooded landscapes, and well-manicured greens create an unparalleled Smoky Mountains golfing experience.
Avid fans know that golfing isn't just a sport, it's a way of life! While in Gatlinburg and the Smokies, indulge in your favorite pastime at the area's most uniquely designed course. From the challenging layout and emerald fairways to beautifully...
Learn More
Gatlinburg Golf Course would not be complete without our fully-equipped Clubhouse. Swing by the clubhouse before hitting the course to browse the best in golf apparel, reserve tee times, relax with your golfing buddies, grab a bite to eat and more.
Learn More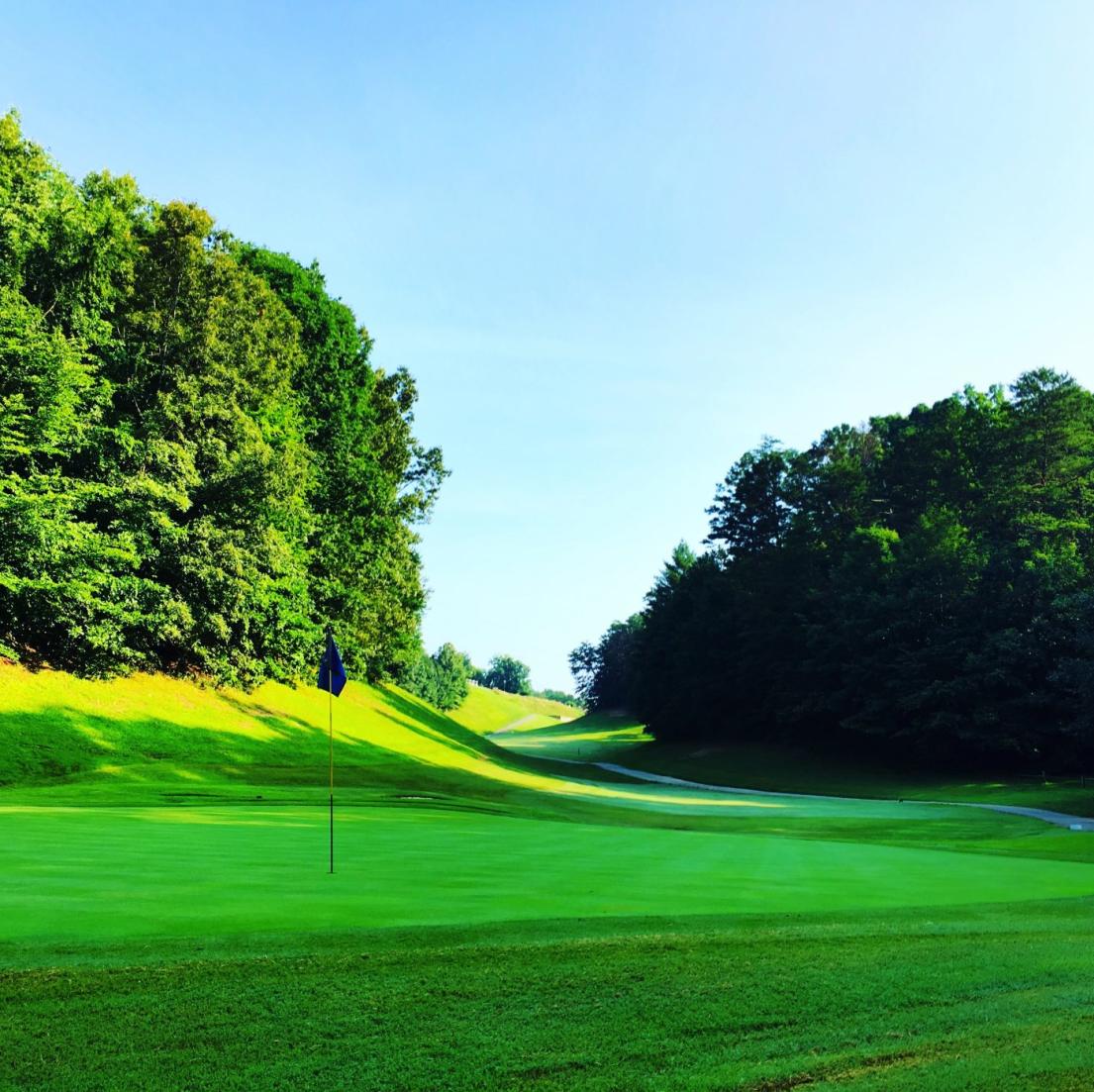 Located just five miles from downtown Gatlinburg, the Gatlinburg Golf Course is open year-round with modern facilities, a fully-equipped pro shop, and a food-service area. This beautiful 18-hole course was designed by noted golf course architect William Langford. In 1993 and again in 2007, it underwent major renovations by Bob Cupp & Associates of Atlanta.
Today, the completely rebuilt greens and reworked fairways are better than ever. The course offers beginners as well as experienced golfers a challenge at every hole, and its scenic beauty is unsurpassed.
With its breathtaking views of the Great Smoky Mountains, the course is arguably one of the best golf courses in Tennessee and has been celebrated as one of the most picturesque courses in America.
The Gatlinburg Golf Course features some of the most fun and challenging holes around. Play our legendary #12, affectionately known as "Sky Hi." It's 194 yards in length and drops 200 feet, from tee to green, making it one of the most dramatic holes in the country. The #3, a 529-yard par 5, is called "Long Lane," and for good reason! The #17 is a 231-yard par 3 and offers little forgiveness. Altogether, it's 6,281 yards of challenging fun.
Convention and group outings are welcome. Give us a call, and we'll have a tee time waiting for you!
Speaking of unique, the Gatlinburg Golf Course is actually situated in a neighboring community, only because the course was built six years before the neighboring community became incorporated.
Gatlinburg cabins, campsites and hotels, fantastic dining, top Gatlinburg shopping, and entertainment facilities are just minutes from the course. If your organization is looking for a meeting site with all the amenities, Gatlinburg is the answer. Accommodations, dining, a modern convention center, entertainment and the Gatlinburg Golf Course, all in the Heart of the Great Smoky Mountains, are available for your enjoyment.
Fees are as follows (price includes 18 holes with cart):
May through November
• Before 12pm: $65
• 12pm to 2:50 p.m: $55
• After 3 p.m.: $45
9 Holes Am: $40 • 9-Hole Fee PM: $30
Rider Fee for Non Player: $10
 December through April
• 18 Holes: $50
• 9 Holes: $30
Rider Fee for Non Player: $10
Discounts (Applicable Anytime)(Non-Members Only)
Seniors 65 and older, & Veterans: $5 off (9 or 18 holes)
Juniors 17 and younger & Active Military: $10 off 18 holes & $5 off 9 holes
Replay Rates (Same day after 18 holes)
$15 – 9 holes
$30 – 18 holes
Rental Clubs (Everyone is required to have there own set)
$50- Titleist Sets (Half price for 9 holes)
$30 Basic Rental Set (Half price for 9 holes)
For lodging and visitor information for your next vacation in Tennessee, call the Gatlinburg Visitors & Convention Bureau, at (800) 568-4748.
The course is located in Pigeon Forge. Turn onto Dollywood Lane from Route 441/Parkway at light 8. The course is one-half mile on the right. Come enjoy a round (or a few) on our scenic Gatlinburg Golf Course!
The Clubhouse is open every day from 8:30 am – 5:00 pm. Players are due off the course at 5:30pm. Phone number: (865)453-3912.