Biking in Gatlinburg
Pedal Pushing
Love to ride? Bring your bike or rent one at Cades Cove and take the beautiful 11-mile loop through history, homesteads and wildlife.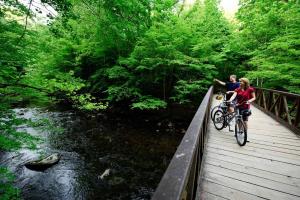 Cyclists will find several options for riding in the Great Smoky Mountains National Park. The most popular of the Gatlinburg bike trails is Cades Cove, an 11-mile loop filled with historic homesites, wildlife and wonderful scenic views. You can rent bikes in summer and autumn at the Cades Cove Campground Store. The loop road closes to motor vehicles early on Wednesday and Saturday mornings, so it'll be just you and the hikers and walkers on one of the most enjoyable Tennessee bike trails.
There's more info from NPS.gov on Gatlinburg bike trails and routes here, including this: "Other areas suitable for bicyclists include the roads in the Greenbrier, Elkmont and Tremont areas in Tennessee. Cyclists may also traverse unfinished portions of the Foothills Parkway in Tennessee. Download a park map to locate these areas."
Ready to pedal along scenic Tennessee bike trails? It's time to ride.