Plan Your
Smoky Mountain Getaway
The time has come to set out and explore the world together again. We have miles of hiking trails in the mountains and tons of dining, attractions, shopping, and arts and crafts in town. Make Gatlinburg your basecamp for adventure. When you visit our beautiful mountain town, we ask that you visit responsibly, practice social distancing and enjoy the Smoky Mountains safely.
Find Healthy Travel Information here.
Win Your Free Getaway
Get Your Free Vacation Guide
With all there is to see and do in Gatlinburg, you'll be thankful to have this informative guide to help make your Gatlinburg vacation better than ever!
Request a Guide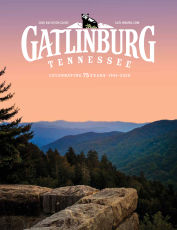 Calling all leaf-peepers, sweater weather lovers and sippers of cider! The streets of downtown Gatlinburg are lined with pumpkins and scarecrows. Pops of color can be seen throughout the mountainside, the forest canopy is beginning to fill in with stunning fall foliage...
Read More
Declared "The Best Mountain Town in the South" by Southern Living Readers, Gatlinburg has everything you need for a memorable vacation that leaves you yearning to come back again and again. Check out these Top Ten Most Searched Attractions in Gatlinburg...
Read More
Share your mountain memories.
#TheMountainsAreCalling