Visit Gatlinburg App
Download the official Gatlinburg app, brought to you by the Gatlinburg Convention and Visitors Bureau. Our FREE app moves mountains of information! Learn about special events, festivals, attractions and outdoor adventure. Discover our unique restaurants, maps and much more!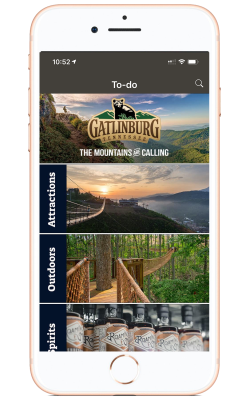 Based on your location, restaurants, attractions and events. Locate places of interest with the map feature. Share information via social media, featuring sections on Great Smoky Mountains National Park and the Gatlinburg Arts and Crafts Loop.