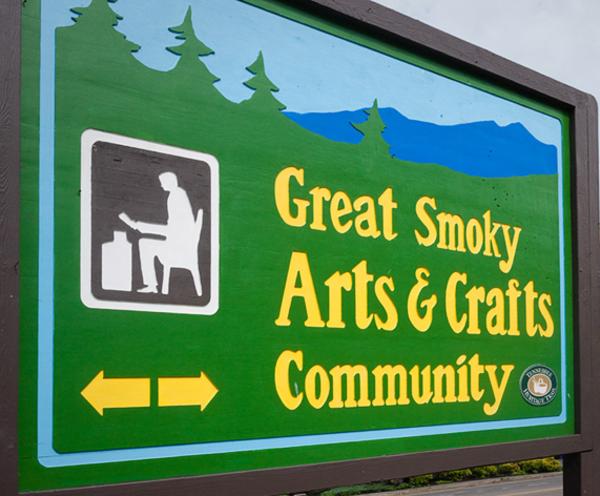 Capture a sparkle by getting creative in Gatlinburg. Makers of all ages and skill levels are welcome at many studios in the Great Smoky Mountains Arts & Crafts Community, where cozy creativity reigns. Don't fancy yourself an artist? Under the direction of master craftsmen, even novices can make heirloom-worthy pieces.
Afterward, stop for a snap in front of a Gatlinburg mural or iconic sign. It's our favorite new twist on the photo-op tradition!
Brush Up on Ceramics
This season, consider brightening your Christmas village with your very own handiwork. You'll find a whimsical assortment of paintable ceramics in all shapes and sizes at Serendipity Ceramics. From lit-from-within winter scenes to classics perfect for year-round display, Serendipity designs delight artists of all ages and abilities.
A Clear Choice for Creatives
When you head to Firefly Glass Studio, there is no need to leave the kids behind. Artist Nancy Huff invites all ages to her "You Create" experience, and creativity trumps fragility. Makers learn fusing techniques and design unique home décor and jewelry. Best of all, Firefly fires and ships the translucent treasures, so you don't have to pack your breakables. 
Play in the Water (colors)
A. Jann Pietso Art is a small gallery chock-full of vivid watercolors and ink paintings. The artist-rendered pieces are available for sale – or she'll help you make your own! Reserve a two-hour "Playing In The Paint With Jann" class to put your mountain memories on canvas. 
Here's Your Sign (or Mural)
Mural photos continue to trend, and now the Great Smoky Mountains are in the picture. Gatlinburg's "Standing Strong" mural puts you up close and personal with a (painted) black bear, right outside Smith & Son Corner Kitchen on the corner of Parkway and Historic Nature Trail at traffic light #8. Looking for more photo direction? The National Park sign on US-441 South and Gatlinburg welcome sign on Parkway also capture well.