All we want for Christmas is you… to have the perfect Gatlinburg holiday getaway! It's true, there's nothing quite like a Tennessee Christmas, especially one spent in a downtown Gatlinburg surrounded by the snow-topped peaks of the Great Smoky Mountains. With thousands of festive twinkling lights decorating the city, an amazing shopping scene, plentiful winter activities and events to enjoy, the North Pole has nothing on Gatlinburg this holiday season. Here are just a few of the many ways to bring Christmas cheer to your Winter vacation:
SLEIGH BELLS RING
Are you listening? The 46th annual Fantasy of Lights Christmas Parade kicked off on December 3, ringing in the holiday season with the Budweiser Clydesdales taking the lead as Grand Marshal. Marching bands, festive floats and balloons lined the streets of the Parkway, a spectacular show on display for the entire family. The award-winning holiday parade featured a star-studded line up including country music singer-songwriter Canaan Smith, BBQ Pitmaster Myron Mixon, and of course, the most famous of all, Santa Claus. If you missed the parade, don't worry - there's no sad faces on Christmas! The Parade will be aired on Circle Network Christmas Day in over 100 markets. Check your local listings here or watch on Youtube below. 
 
FOR UNDERNEATH THE TREE
Gift giving is not the reason for the season of course, but there's nothing quite like watching that special someone open the perfect gift tailored just for them. While the hustle and bustle can be stressful, lucky you - Gatlinburg's amazing shopping scene makes holiday gifting easy. With 9 malls, including the Village, a European style cluster of 27 boutique shops, there's something for every person on the list. For a more unique gift, visit the Great Smoky Arts and Crafts Community. The 8-mile loop of local artisans and crafters is verified as Santa's go to place for handcrafted pottery, ceramics, glass blowing, paintings, and more.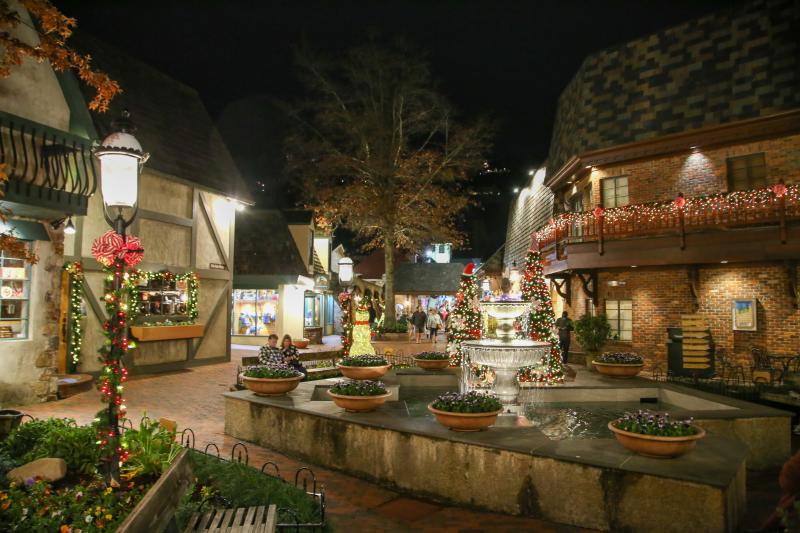 WARM YOUR SPIRITS
Cozy up with your special someone in one of Gatlinburg's cabins or chalets and bundle up by fireplace and enjoy romantic views of the Smokies. Beat the cooler temperatures with a warm cup of coffee from local Gatlinburg Grind, Coffee & Company, or Split Rail Eats. If you have a sweet tooth, satisfy it by indulging in a cup of hot cocoa on Anakeesta's new Hot Chocolate Trail with different whimsical creations at every food and beverage vendor. If you're looking for an adult-only cup of cheer, Ole Smoky Moonshine's Holiday Shine Nog is sure to keep spirits bright.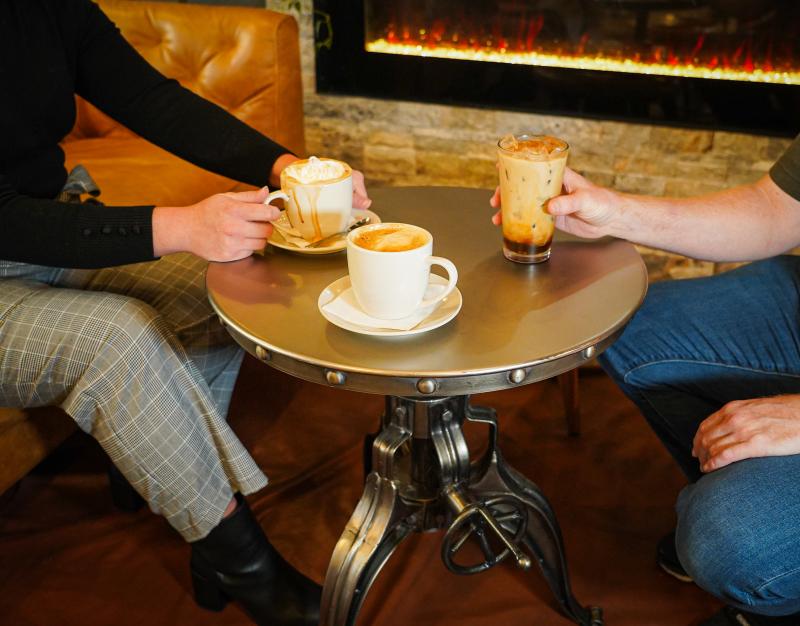 ALL IS MERRY AND BRIGHT
Speaking of keeping things bright, Gatlinburg's Winter Magic Celebration lives up to its name, lighting up town with thousands of festive lights and holiday decorations. Take the self-guided Christmas lights tour to experience a picturesque scene of holiday magic for the entire family. The festivities don't end there! A wonderland of lights, holiday festivities, and seasonal shopping, and more await at Enchanted Winter at Anakeesta. You'll feel like you're riding on Santa's sleigh at Lights Over Gatlinburg. Not only will you be soaring through the night through a 200 foot long tunnel of lights, the Gatlinburg SkyLift Park also is suited for the season with 10 new "dancing trees" along the recently opened Gatlinburg SkyTrail. Getting a family photo for the Christmas card will be easy with plenty of photo opportunities in front of their 30-foot lighted Christmas tree.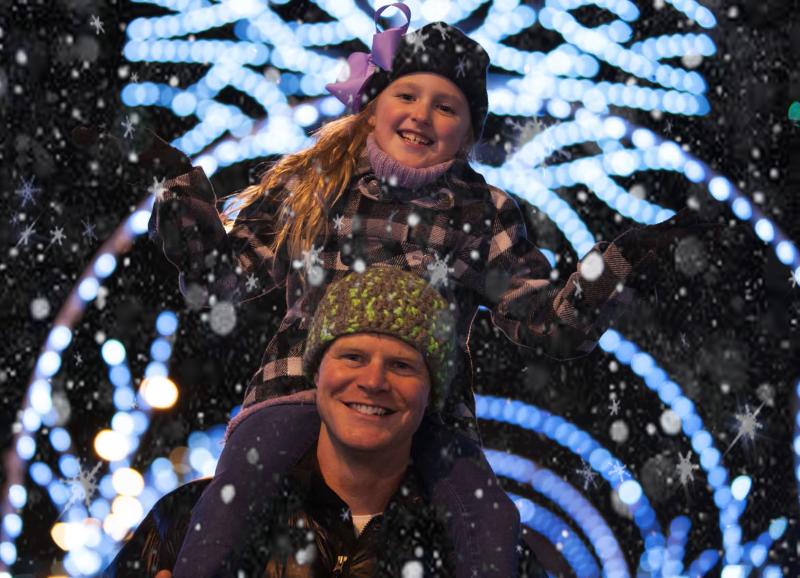 HERE COMES SANTA CLAUS
Let us let you in on top secret information, Santa Claus has headquarters right here in Gatlinburg! Whether you've been naughty or nice, still stop into Santa's Claus-et and get your picture made with Saint Nick. After you've shared your Christmas list, make sure to check out all the holiday ornaments, decorations, and more that Santa's elves have in store. The holidays are a busy time for Santa, but even he can't turn down a hearty breakfast from Cliff Top Restaurant at Anakeesta. Join him at Breakfast with Santa for a delicious breakfast, holiday activities, and a commemorative photo.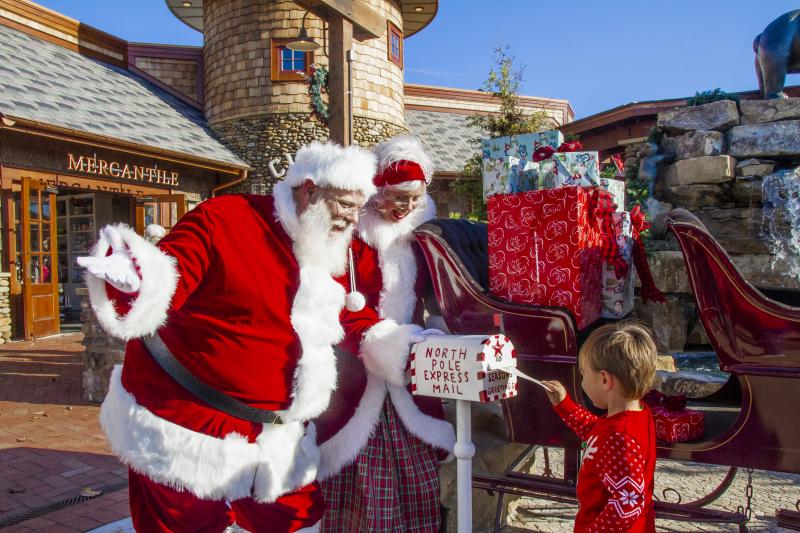 SKIING IN A WINTER WONDERLAND
You've heard of walking in a winter wonderland, but how about skiing in one? Ober Gatlinburg is Tennessee's only ski resort and a prime spot in the Smoky Mountains for skiing, snowtubing, and snowboarding. Practice your winter Olympian ice-skating skills at Ober's indoor ice chalet or even enjoy a round of ice bumper cars. It's cold outside, but don't fret. A full-service restaurant and lounge are waiting to warm you up with a steaming cup of hot cocoa.