Gatlinburg, Tenn (October 13, 2021) - The honorable title of GatlinBURGER Burgermeister has been bestowed upon Anakeesta's Cliff Top Restaurant for their "Tennessee Bourbon Burger."  The second most popular burger was a tie between last year's champion, Smith & Son Corner Kitchen and Split Rail Eats. The competition was strong between the sixteen Gatlinburg restaurants who all made incredible renditions of an off-menu specialty burger for only $8 during the second GatlinBURGER Week September 19 - 25.
Cliff Top Chef Cody Sconyers earned the Burgermeister title with the "Tennessee Bourbon Burger." The mountain vistas surrounding the restaurant were the inspiration for the "over the top" burger which thrilled guests with its half pound Angus Beef patty, smothered with slow-smoked brisket, fresh provolone cheese, crispy fried jalapeno poppers and topped with the house made bacon bourbon chutney. Cliff Top Restaurant is located at Anakeesta, the mountain top theme park in downtown Gatlinburg at 576 Parkway.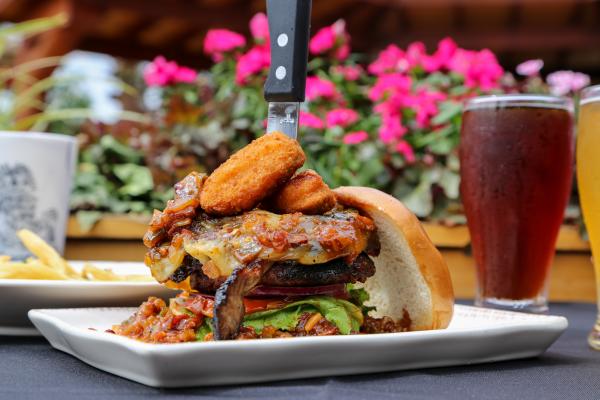 CLIFF TOP RESTAURANT AT ANAKEESTA - "Tennessee Bourbon Burger" - Half-pound Angus Beef patty, chargrilled to perfection, smothered with our own slow-smoked brisket, bacon bourbon chutney, fresh provolone and topped with crispy fried jalapeño poppers, served on a buttered Brioche bun
Smith & Son Chef Michael Tucker heated up the competition with "The 'Gatlin' Gunslinger." The Hispanic influenced creation consisted of a half-pound ground beef and chorizo patty topped with a fried egg, Pico de Gallo, smoked gouda cheese and chopped ghost peppers, finished with an Ole Smoky Mango Habanero Whiskey infused chipotle ranch sauce. Smith & Son Corner Kitchen is located at the corner of Parkway and Historic Nature Trail/Airport Rd.
Split Rail Eats owners John Mistriotis and Corbin Deberry created the "The Daddy Mac." The comfort food inspired burger featured a deep-fried patty of their popular Mac and Cheese with crispy Ritz Cracker crumb crust. It was accompanied by a smashed Angus Beef patty, gruyere cheese, bacon, bread and butter pickles and a sweet and tangy sauce. The inspiration came from a customer who suggested they try using the popular side dish on a burger. Split Rail Eats can be found in The Covered Bridge complex at 849 Glades Rd.
A total of sixteen restaurants offered up creative, mouthwatering burgers during the week-long event. Visitors enjoyed the specialty burgers at Cliff Top Restaurant and the Smokehouse at Anakeesta, Crawdaddy's Restaurant and Oyster Bar, Delauder's BBQ, Flapjack's Pancake Cabins, Johnny Rockets, Loco Burro Fresh Mex Cantina, Ole Red Gatlinburg, Pucker's Sports Grill, The Rampant Lion, Ruby Sunshine, Seasons of Ober Restaurant at Ober Gatlinburg, Smoky Mountain Brewery, Smith & Son Corner Kitchen, Split Rail Eats, and TGI Fridays.
Diners from across Tennessee, West Virginia, Indiana, Ohio, Kentucky, Colorado and California consumed nearly 2,000 specialty hamburgers during the week. Burger-eaters had the opportunity to vote for their favorite burger by Passport and social media.
Gatlinburg rewarded two burger eaters for their enthusiastic support of GatlinBURGER Week.  Douglas Serra and Jerry Burley of Sevierville will receive a Gatlinburg Goody Pack for their diligence in trying seven burgers and sending in their Passports.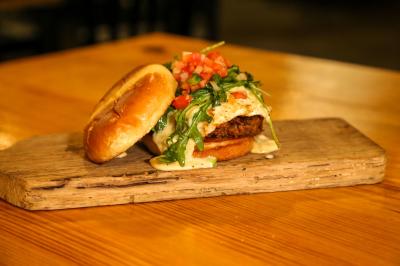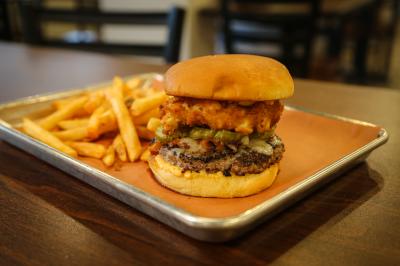 SMITH & SON CORNER KITCHEN - The "Gatlin" Gunslinger - A half-pound ground beef and chorizo patty topped with a fried egg, Pico de Gallo, smoked gouda with chopped ghost peppers, Ole Smoky Mango Habanero Whiskey chipotle ranch on a toasted Potato bun.
SPLIT RAIL EATS - "The Daddy Mac" - Smashed Angus patty on a toasted potato bun with a sweet & tangy sauce topped with deep fried mac 'n' cheese, bacon and bread & butter pickles.
#GatlinBURGER photos