Follow Gatlinburg on Social
Make the most of your visit and stay in the loop by following Gatlinburg on social media!  Be in the know on upcoming events, new Gatlinburg hotels, cabins, attractions, places to eat and shop. Saving Visit Gatlinburg's posts can help you build an itinerary which you can then share with your fellow travelers.
Also be sure to subscribe to our monthly e-newsletter as well as our blogs which will give you great insight into the best times to visit, what to see and where to go, and other helpful tips and best ways to visit Gatlinburg.
Download the free Gatlinburg app
Receive mountains of information and learn about special events, festivals, attractions, outdoor adventure, unique restaurants, maps and much more.
Get Your Free Vacation Guide
With all there is to see and do in Gatlinburg, you'll be thankful to have this informative guide to help make your Gatlinburg vacation better than ever!
Request a Free Guide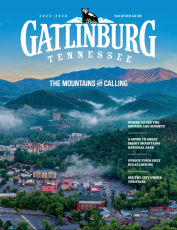 There's so much to do in Gatlinburg
---