[caption id="attachment_1117" align="alignleft" ]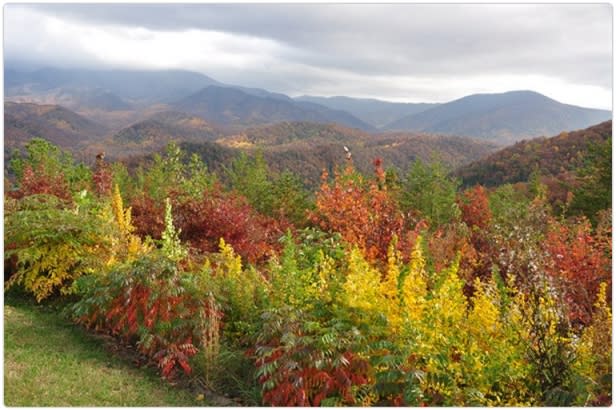 The beauty of October in Gatlinburg.[/caption]
If you've been to Gatlinburg anytime throughout the year you surely can see why so many people return here year after year. Every season has something to offer. Fall is especially beautiful here, and October is likely the most beautiful month of autumn in Gatlinburg. First there's the changing of the leaves (don't miss our recent blog explaining the fall color changes in our area). Suddenly the shops, restaurants and attractions all decorate for fall. We see scarecrows and witches, black cats and pumpkins around every corner.
Then the days surprise us with crystal clear air and royal blue skies, and we're breathless at the mare's tale clouds and ember glow of evening; we didn't think such gorgeous days could end so fast; darkness falls so much earlier now.
It's just this combination of crisp days and long cool nights that touch the trees with an almost magical caress; then almost without us being aware, the greenery upon the mountains is dabbed with orange, yellow and red. The colors work their way down the slopes and surround us here in the lowlands; such a dazzle and blush against the sky. Almost everything we do seems heightened somehow during this remarkable time.
Visitors can spend their entire vacation enjoying the fall colors, and we encourage everyone to do so. We also invite travelers to explore even more about Gatlinburg. To get you started we've created this short checklist of fun activities. Let us know in the comments what you think and if you've visited any of these places:
Fall is a good time to visit some of the Gatlinburg area wineries. You can get a short

introduction to several of our wineries

here and make an afternoon or even a day of touring several of them to compare their stock. If wine isn't your thing, then why not try some handcrafted beers, small batch whiskey or moonshine?

We've got the details here

, so you can create your own tour. Visitors report that they loved the hospitality at the breweries and wineries and that they make these tours a highlight of their Gatlinburg trip every year. This is an activity that many visitors have enjoyed and some of the wineries and breweries will ship bottles of their products home for you.

What would a trip to Gatlinburg be without a stop at one of our famous fudge shops? You honestly haven't lived until you've tasted fresh made fudge. And Gatlinburg fudge is known far and wide as some of the best anywhere. While you're tasting fudge, you can try some of our other candy stores too; we even have one that's a nostalgic candy store which will surely bring back memories of when you were a kid.

Don't forget the donut shops. You'll want to try the cinnamon bread that one of our donut shops is famous for! You'll be glad to know that one of our popular donut shops opens at 5 a.m. daily for that early sweet tooth urge. Take a look at our

Shopping page

and get more details on our candy and donut shops and lots of other fun family shopping experiences.

While Gatlinburg is known for spectacular fall weather, when you travel with children you need to know about a few indoor family attractions that are there for you rain or shine. We can point you in the right direction. Gatlinburg is home to some great stops for food and fun that can be a perfect activity for kids who love to win prizes playing games. In Gatlinburg's downtown area you'll find several shops that combine good eating with fun arcade games. You'll find some of the most loved arcade games from days gone by like Pac Man and you can even play that old favorite, Tic Tac Toe. Some of the game centers allow you to rack up points that don't expire, so you can choose to save them and trade them in for a bigger prize later. 

One of the best parts about visiting the arcades is you won't need to leave for a restaurant when you get hungry. Surely you'll work up an appetite playing some of the hundreds of fun arcade games, so try some foot long hot dogs, pizza, subs and more delicious food served right at the arcades.
Check out more about these attractions and many others on our Family Attractions page. Keep checking this page as it is frequently updated. The Family Attractions page offers links to each attraction's website and directions.
What are your favorite Gatlinburg fall activities? Share your experiences with us in the comments, on Facebook, on Twitter @travelgburg, or on Google +!