With over 800 miles of trails to travel in Great Smoky Mountains National Park, there's an endless array of winding pathways, panoramic views, cascades, and ecological communities to discover. Whether you are a beginner or a seasoned hiker, the Smokies offers something for everyone. It's always important to do some research before beginning a trek into the mountains, however. This list showcases some of the most popular trails near Gatlinburg and offers some insight into what to expect if you decide to take advantage of nature's beauty that is right in our backyard.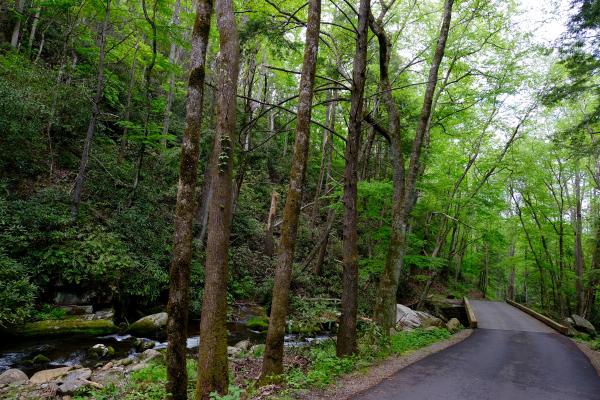 Roaring Fork Motor Nature Trail, located just on the outskirts of Gatlinburg, offers a picturesque drive for those that want to admire nature's beauty from the comfort of their vehicle. The 5.5-mile loop takes guests down a one-way lane through the beautiful Smoky Mountains. In addition, just outside of the entrance to the motor trail, you'll find Noah "Bud" Ogle's Self-Guided Nature Trail which is perfect for those who want to get out, stretch their legs, and explore some of the cabins and other historically significant buildings located there. Back on the motor trail, visitors can admire undisturbed, peaceful forests and flowing mountain streams. A particularly large, rushing stream being what gave the trail its name. Nearing the end of the motor trail, guests will encounter the "Place of a Thousand Drips", a cluster of small chutes of water that have been interwoven together to create one eye-catching waterfall. The trail is closed during the Winter season but is now open for the season.

Directions from Gatlinburg: To access Roaring Fork, turn off the main parkway in Gatlinburg, TN at traffic light #8 and follow Historic Nature Trail Road to the Cherokee Orchard entrance to the national park. 
Middle Prong Trail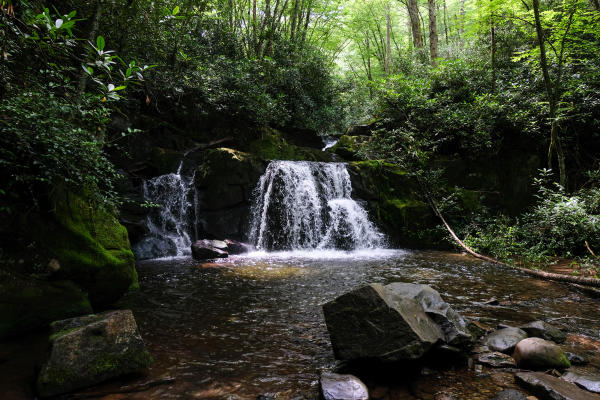 Calling all water and history lovers, because this one is for you! It may sound like an odd combo, but this trail encompasses so much beautiful variety wrapped in one package. Middle Prong Trail boasts three prominent waterfalls on this trail: Lynn Camp Prong Cascades, Lynn Camp Falls, and Indian Flats Falls. While this trail is considered strenuous at 8.3 miles roundtrip, the beautiful cascades, rich history, and hidden treasures on this trail make it worth your while. 100 years ago, the community in which the trail meanders through today, was one of the last logging communities left in Great Smoky Mountains National Park. With that being said, clues of that life have been left along the trail for hikers to discover. From the gravel road that marks the trail, formerly a railway line, to an old Cadillac left behind, located just a short distance from the trail path, it's easy to imagine that past come to life all around you. Its picturesque qualities make a fun yet challenging hike, particularly as hikers will have to traverse a couple of small streams without the help of an overcrossing. The trail is accessible off of Upper Tremont Road, and will eventually lead hikers to the Greenbrier Ridge Trail and Lynn Camp Prong Trail junction.
Directions from Gatlinburg: Enter the National Park from the Parkway in downtown Gatlinburg. After approximately 2 miles, hikers should turn onto Fighting Creek Gap Road and continue for roughly 5 miles. This will turn into Little River Gorge Road, which drivers will continue on for 12.5 miles. Drivers should then turn onto Laurel Creek Road. After driving for 0.3 miles on Laurel Creek Road, drivers should turn onto Tremont Road and continue for 2 miles until they spot Upper Tremont Road. After approximately 3 miles on Upper Tremont Road, the Middle Prong Trailhead will be accessible.
The Gatlinburg Trail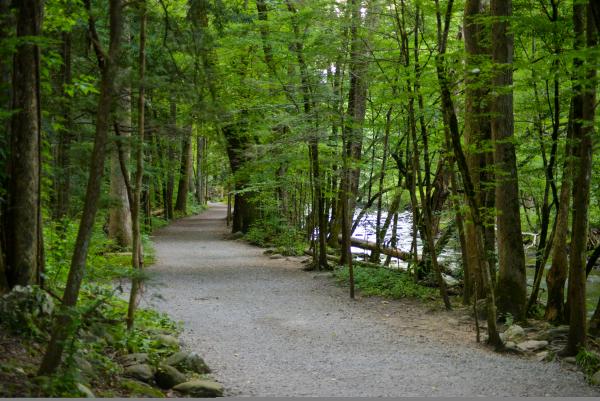 The Gatlinburg Trail, a 1.9 mile stretch from Sugarland's Visitor Center to Gatlinburg, is a fan favorite for its convenience along with its variety of beauty. Being one of only two walking trails in the national park that permits pets and bicycles, many take to the path to exercise, take a stroll, or just admire the scenic qualities the route possesses. History-lovers will get a treat on this trail as well. Many remnants of old homesites are along the trail. The trail also follows a portion of the Little Pigeon River which is eventually crossed by a picturesque footbridge. Being relatively short in length, this trail is perfect for those that want to get out and take in the fresh air of the mountains without doing anything too strenuous.
 
The Jump Off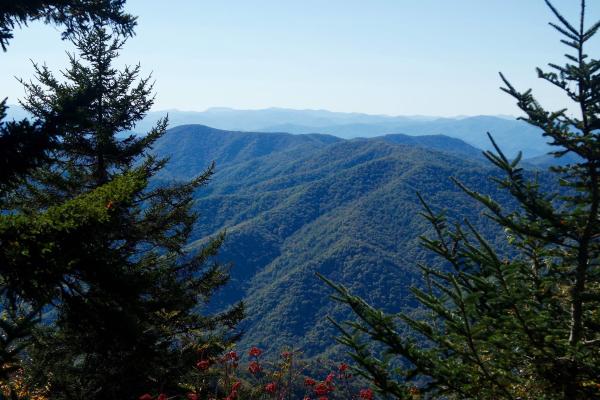 Time to "jump off" the path well-traveled to get some stellar views! While not actually designated as a trail by Great Smoky Mountains National Park, stopping by this spot in the Smokies is definitely a must-see, especially if hikers are making the trek to Charlie's Bunion, located nearby. Seated in the higher elevations, hikers will be treated with bird's eye views on a rock outcropping along with beautiful wildflowers along the way, in the warmer months.  
In order to access the Jump Off, hikers should begin their 6.5 roundtrip trek on the Appalachian Trail accessed off Newfound Gap Road. Hikers should continue along the trail, past the Sweat Heifer Trail Junction, taking in the mountainous views, which span across two states, encompassing both North Carolina and Tennessee. Just short of the 3-mile mark, the Boulevard Trail Junction will become visible, and hikers should make a left. After approximately 0.1 miles, hikers will see the sign for the Jump Off, leading them by trail to their destination.  
 
Notorious for being a location that is frequently "socked in" (meaning commonly having a high cloud volume), hikers should try to plan this hike on a clear, sunny day in order to get the best views and experience. After taking in the amazing, panoramic views, hikers should begin their trek back down to complete the roundtrip hike.  
 
Directions from Gatlinburg: From Gatlinburg, hikers should drive along US-441 S/ Parkway and enter the National Park from the downtown entrance. Continue for 13.2 miles on US-441 S Parkway. Hikers should use the large parking lot along Newfound Gap Road to begin the hike on the Appalachian Trailhead.
Andrews Bald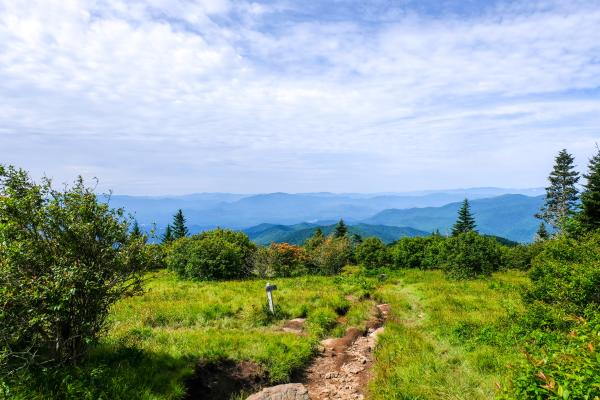 Andrews Bald is the highest bald in Great Smoky Mountains National Park, making it an awesome place to get some extraordinary views of the mountains. Accessible from the Forney Ridge Trail, hikers can begin the 1.8-mile one-way trip from the Clingman's Dome parking lot entrance. Unlike many trails in the national park, the hike to Andrews Bald begins with a decent for approximately one mile. For the last short distance, however, there is a gradual rise to the lush meadow that is Andrew's Bald. Not only is the place strikingly beautiful, but it is rich in history, as many early settlers used these areas in the mountains for livestock, including Andres Thompson, the man the bald is named for. This moderate hike is worth the steps, not only for its panoramic views but for the vibrant flora that can be found growing there during the warmer months. Most notably, the bald is known for having an immense amount of Flame Azaleas, a flower that lives up to its name with its blazing orange color. To experience these beauties, visitors should plan their hike in July as this is typically their peak blooming season. Encompassing Appalachian history, stunning views, and beautiful wildflowers, this destination is definitely a must-see while in the Smoky Mountains. Read more about Forney Ridge to Andrews Bald here. 
 
Directions from Gatlinburg: Visitors should allocate the park entrance from the downtown Parkway. Follow US-441S for approximately 15 miles. Then, make a right turn onto Clingman's Dome Road. After roughly 6 miles, hikers should reach the Clingman's Dome parking area. The Forney Ridge Trailhead can be found here.
Alum Cave Trail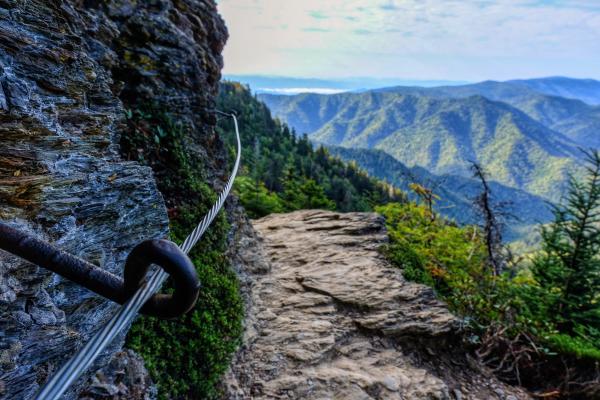 The Alum Cave trail is arguably one of the most popular trails in the Smokies. The hike has a vast variety of geologic gems mixed with beautiful views that entice visitors to make the 2.3-mile trek from the trailhead to the Alum Cave Bluffs. Hikers climb 1,125 feet in elevation on what is classified as a "moderate" hike. One of the first geological wonders you encounter is Arch Rock which is definitely a shining feature of the trail. Hikers navigate a slender tunnel on a scenic stone staircase that has been etched in the floor of a naturally sculpted archway. The beauty of this trail continues as wildflowers can be found decorating the forest floor as you make your way to Alum Cave. Hikers are also rewarded with beautiful views of the mountain's valley, just about two miles from the trailhead, at a bald called "Inspiration Point". Just approximately 0.3 miles further, the main event is reached. An 80 feet tall, 500 feet long hollowed bluff is nestled right into the side of the mountain. Water has been known to trickle down the roof of the cave, which in the Winter can produce icicles. It is important to note that visitors should be mindful of falling icicles if making the journey to Alum Cave in the Winter. Filled with various beauties, hikers can begin the trek back down the trail or can continue on it to summit Mount LeConte. 
Directions from Gatlinburg: To access the Alum Cave Trail from Gatlinburg, hikers should make their way to Sugarland's Visitor Center and go approximately 8.7 miles on Newfound Gap Road. On the left side of the road, visitors will see two parking lots for the Alum Cave Trailhead.
 
Grotto Falls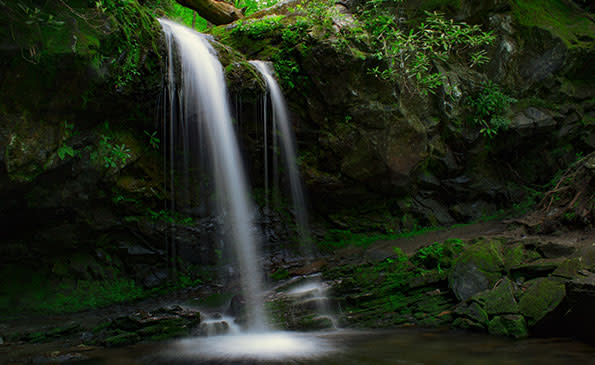 Grotto Falls is definitely a special spot in the Smokies. Not only is it a beautiful 25-foot waterfall, but it is also the only waterfall in the park that allows visitors to go behind the rushing cascade. The shortest way to reach the falls is by the Trillium Gap Trail which can be accessed by the Roaring Fork Motor Nature Trail, just on the outskirts of Gatlinburg. Ranked as a moderate hike, visitors will trek through a pathway laced with wildflowers and lined with hemlock trees, over rocky terrain, to the streams that will shortly lead to swishing cascades and Grotto Falls. Because of the dense forest and water rapids, the area provides a shady sanctuary from the hot summer heat. That being said, the wildlife loves nature's air conditioning as much as the visitors. If you look closely, salamanders and other wildlife can be found on the rocks surrounding the water. Be very cautious though, as the terrain and rocks are usually slick! Another form of wildlife you may encounter are black bears. They can sometimes be active in this area, so as always, stay knowledgeable on bear safety and prepare before a hike!

Directions: From Gatlinburg, visitors should turn at traffic light #8 onto Historic Nature Trail Road and continue until they reach the stop sign. At this junction, turn onto Cherokee Orchard Road to get to Roaring Fork Motor Nature Trail. Parking and entry to the Trillium Gap Trail is accessible at stop #5 on the Roaring Fork Motor Nature Trail. 
 
Sugarlands Valley Nature Trail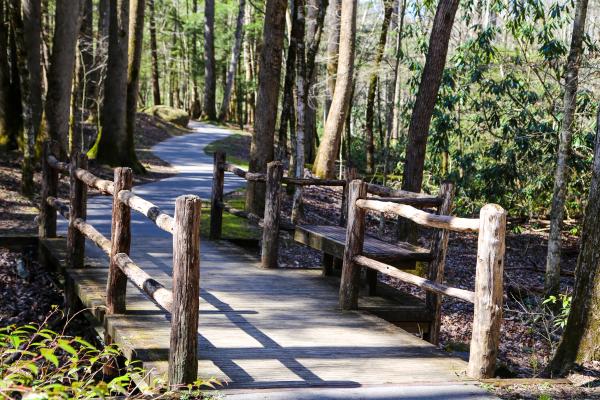 This flat and paved trail is one of the favorite hiking spots in Great Smoky Mountains National Park. At only .5 miles in length, it offers a fun way to enjoy the outdoors without overdoing it. This short trail would make a great quick hike on a warm day if you want to get outside for a fast trip in the park.
Visitors who want to bring children in a stroller or those who wish to traverse a trail that is wheelchair friendly often choose this easy trail.
People who like to hike a short trail with nearby rest facilities will like that this trail is adjacent to the Sugarlands Visitors Center. While this trail is fun and convenient it still offers chances to see wildlife (many hikers have seen deer here) and an opportunity to view the nearby streams.
 
Cove Hardwood Nature Trail


Located within 15 minutes from town and about 4.5 miles south of the Sugarlands Visitor Center at the Chimneys Picnic Area, you'll find this picturesque .75 mile trail. This trail is known for being a preferred spot for wildflower viewing in the spring. The forests on this trail offer visitors a view of some grand old-growth trees. People who have hiked this trail have rated it as one of the very best trails in the area because it provides hikers with an inspiring walk through a virgin forest view of the Smokies.
This trail takes around an hour to walk, and you'll start in the second-growth forest making your way to the old-growth section. You'll cross a few springs and see many types of wildflowers. The area is sheltered and offers just the right environment for a diverse range of flora. The Sugarlands Visitor Center can provide information on the early settlers and former homesteads in this area.
 
Laurel Falls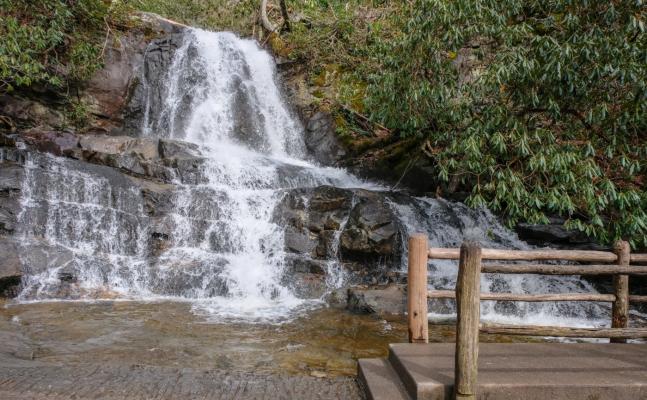 This trail is one of only 4 paved trails in Great Smoky Mountains National Park.  While the hike is fun, the real reward is the sight of the beautiful 80-foot high waterfall. In some areas, the pavement is easier to travel over, and in others, it can be a bit uneven and rough. This trail might be a little too difficult for strollers and wheelchairs. Pets and bicycles are prohibited. The total hike is 2.6 miles to and from the falls. The hike is not very difficult and most hikers can finish it in under two hours. Visitors have reported that this trail is good for kids 6 and up.
Note: Early morning is the best time of day to go to Laurel Falls as it can get a bit crowded later in the day. It's important to keep watch for bears. Don't litter or leave food around where it can tempt bears. Children should be supervised at all times. Some parents say that child carriers may be the best way to transport smaller kids versus using a stroller.
 
Metcalf Bottoms Trail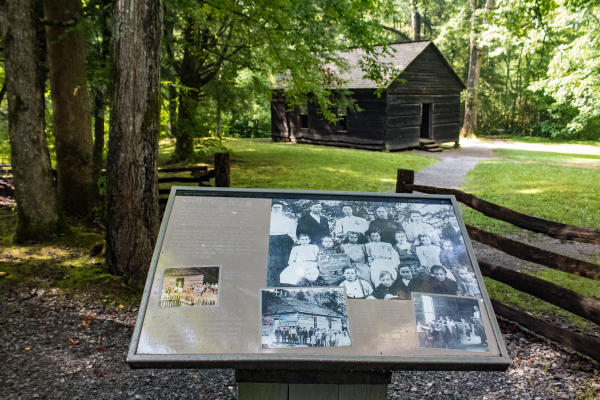 Enjoy a pretty easy walk on this 2.2-mile trail. It offers a gravel surface and you can see the old-time Little Greenbrier School. Start at the picnic area and proceed through to the Little Greenbrier School. Kids and adults alike enjoy seeing the school, which was built in 1882 and still has the original children's desks inside. Also on this trail is the Walking Sisters Cabin and springhouse.
 
What trails have you hiked in Gatlinburg? Share your experiences with us in the comments, on Facebook, on Twitter, or on Instagram.