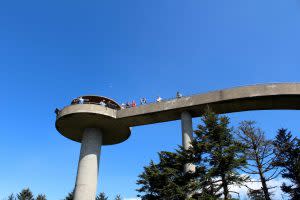 Great Smoky Mountains National Park officials announced plans to open Clingmans Dome Road this weekend beginning Saturday, March 31. At 6,643 feet, Clingmans Dome is the highest point in the park and the third highest mountain east of the Mississippi. Park visitors can enjoy views from the parking area or climb the steep, half-mile walk to the observation tower to the summit of Clingmans Dome which offers spectacular 360° views of the Smokies. Visitors may also receive information and trip planning advice at the Clingmans Dome Information Center which includes a bookstore managed by Great Smoky Mountains Association.
The road will continue to be monitored for hazardous conditions and could be closed due to inclement weather. For the most up to date information on road closures, visitors should follow SmokiesRoadsNPS on Twitter.
Campgrounds, picnic areas, roads, and concession operations are opening across the park for the 2018 season.
See the full opening schedule listed below:
Roads – Forge Creek Road opened on March 10; Clingmans Dome Road and Round Bottom/Straight Fork Road will open on March 31; Roaring Fork Motor Nature Trail, Rich Mountain Road, and Little Greenbrier Road will open on April 7; and Balsam Mountain Road and Heintooga Ridge Road will open on May 26. Cades Cove Loop Road will be closed for bicycle use only on Wednesday and Saturday mornings until 10:00 a.m. from May 9 through September 26. Due to road damage and hazard trees, Parson Branch Road will remain closed in 2018.
Picnic Areas at Cades Cove, Deep Creek, Greenbrier, and Metcalf Bottoms are open year round. Chimneys picnic area opened on March 11 and Cosby picnic area opened on March 23. Collins Creek and Big Creek picnic areas will open March 30. Heintooga Picnic Area will open on May 26. Look Rock picnic area will remain closed for the year.
The park's largest picnic pavilion at Twin Creeks will open on March 30 and reservations are required through Recreation.gov. Twin Creeks' fees range from $40-$80 depending on the number of people. In addition, picnickers can reserve five other picnic pavilions on Recreation.gov. They are located at Collins Creek, Cosby, Deep Creek, Metcalf Bottoms, and Greenbrier picnic areas. The cost is $25, except at Greenbrier where it is $12.50.
The Appalachian Clubhouse and Spence Cabin in the Elkmont area open for the season on April 1. Reservations for day use may be made through Recreation.gov. Costs range from $150 to $400.
Campgrounds open on a staggered schedule that started on March 9. See the chart below for exact dates. Camping fees range from $17.50 to $27 per site per night. The park's developed campgrounds at Abrams Creek, Balsam Mountain, Big Creek, Cataloochee, Elkmont, Cades Cove, Smokemont, and some sites at Cosby are on the reservation system through Recreaction.gov for at least a portion of their seasons. Recreation.gov provides visitors an opportunity to make reservations to many federally-managed recreation areas, including National Park Service areas, across the country. The system allows campers to reserve specific campsites and to make reservations 6 months in advance. Group campsites and picnic pavilions can be reserved up to 12 months in advance. Visitors can make reservations at the five campgrounds, all group campsites, horse camps, and picnic shelters by booking sites online at www.Recreation.gov or by calling 877-444-6777.
Advance reservations are required at Abrams Creek, Balsam Mountain, Big Creek, and Cataloochee Campgrounds throughout their entire seasons. Reservations are recommended at Cades Cove, Elkmont, and Smokemont for the period from May 15 through October 31. During the rest of the open season, these three campgrounds are first-come, first-serve. At these three campgrounds, campers also have an opportunity to reserve a generator-free campsite. Cosby Campground, which has mostly first-come, first-serve campsites, has a limited number of reservable sites.
Group Camping is available at the following seven campgrounds by reservation only through Recreation.gov: Big Creek, Cataloochee, Cosby, Deep Creek, Elkmont, Cades Cove, and Smokemont. See the following schedule for exact dates. The cost for group camps ranges from $30 to $75 per site per night.
Horse Camps are available by reservation only through Recreation.gov at Anthony Creek, Big Creek, Round Bottom, Tow String and Cataloochee See the following schedule for exact dates. The horse campsite fees are $23 at all horse camps except for Big Creek, where it is $29.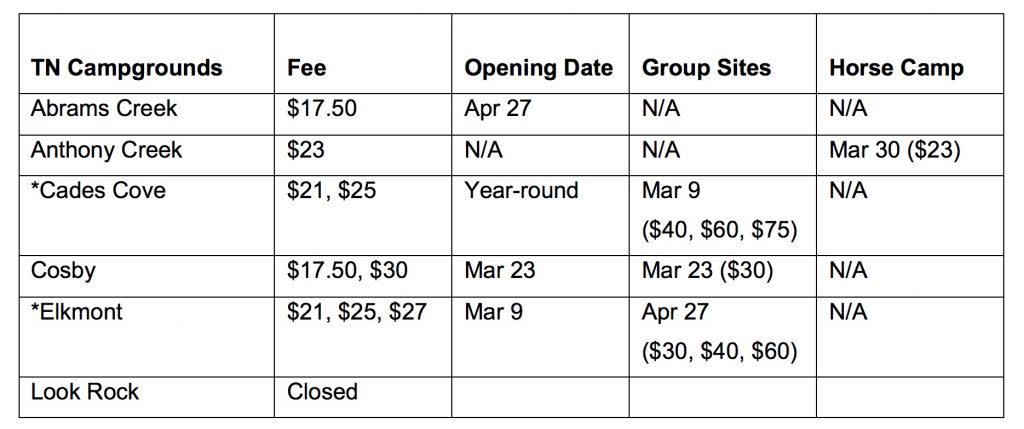 *At Cades Cove, campsites are $25 per site during the reservation period May 15-October 31. At Elkmont, riverside campsites are $27 during reservation period.
Horseback Riding - The opening dates for the three horseback concessions located on the Tennessee side of the Park are: Sugarlands Riding Stable opened on March 2; Cades Cove on February 23; and Smoky Mountain Riding Stable on March 9. In addition to horseback rides, Cades Cove Riding Stable will offer their customary carriage rides and hay rides which are wheelchair accessible. The Smokemont Riding Stable in North Carolina opened March 17 providing guided horseback rides along with horse-drawn wagon rides along the route of the historic Oconaluftee Turnpike.
LeConte Lodge, accessible only by trail, opened on March 19. Reservations are required and can be made by calling 865-429-5704, fax 865-774-0045, or email at reservations@lecontelodge.com. One night at the lodge costs $148 per adult and $85 for children 4-12 (tax not included). Children 3 and under are free. The price includes two meals--dinner and breakfast. Day hikers and backpackers can purchase a prepared bag lunch and snacks/beverages at the lodge.
Campground Concessions – The Cades Cove Campground Store opened on March 1. The store provides groceries, camping supplies, firewood, ice, vending, limited food service, souvenirs, and bike rentals. The Cades Cove Store has multi-speed comfort bikes, single speed cruisers, and electric assist bikes for rent. The Elkmont Campground concession opened on March 9. The concession provides firewood, ice, limited camper convenience items, and vending of soft drinks, newspapers, and snacks.
Operating Hours for Visitor Centers – Sugarlands Visitor Center (SVC), near Gatlinburg, TN; Cades Cove Visitor Center (CCVC), near Townsend, TN; and Oconaluftee Visitor Center (OVC) near Cherokee, NC are open daily, seven days a week. The Clingmans Dome Visitor Information Center is open daily, seven days a week from March 31 through November 30. See the following schedule for operating hours:

Operating Hours for Backcountry Office – The Backcountry Office located at the Sugarlands Visitor Center, near Gatlinburg, TN, is open every day from 8:00 a.m.-5:00 p.m. Backcountry reservations and permits can also be obtained online at smokiespermits.nps.gov or by calling 865-436-1297.
For more information on park events, please visit the park's website.