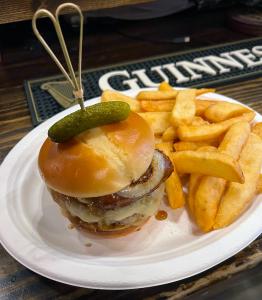 As 18 restaurants sought after GatlinBURGER Meister, Boudicca's Celtic Pub has officially received the renowned title after immense popularity with their "Bangers Burger." In a close second, Split Rail Eats was runner-up with "Wrapper's Delight." Celebrating the 3rd Annual GatlinBURGER Week, September 18 through 24, participating restaurants made competition fierce, creating their own spin on the classic hamburger for only $9.
A first-time participant, Boudicca's Celtic Pub earned GatlinBURGER Meister, with a nod to their traditional Irish heritage. The "Bangers Burger" featured classic elements of the Celtic cuisine including two Angus beef patties topped with Irish Cheddar, Guinness marinated sausage, mashed potatoes, and sweet grilled onions, all sandwiched between two potato buns grilled with Irish butter. Boudicca's Celtic Pub is located in The Village at 634 Parkway #7.
Consecutively ranking as a fan-favorite, Split Rail Eats received Runner-up, spicing up the competition with the "Wrappers Delight." Enfolded in a warm grilled tortilla, the unique take on the filling treat consisted of an Angus beef patty, bacon, green chiles, chipotle mayo, and grilled onions, all topped with Colby-jack cheese. Split Rail Eats is located at 849 Glades Road, found within the Covered Bridge complex.
Record-breaking participation marked the 3rd Annual GatlinBURGER Week's success. Visitors were offered 18 different specialty burgers from Anakeesta's Cliff Top Restaurant, Anakeesta's Smokehouse, Bennett's Pit BBQ, Boudicca's Celtic Pub, Crawdaddy's, Delauder's BBQ, Flapjack's Pancake Cabin, Howard's Restaurant, J.O.E. and Pop's Sub Shoppe, Little House of Pancakes, Loco Burro Fresh Mex Cantina, Margaritaville Resort, Seasons of Ober Restaurant, Puckers Sports Grill, Split Rail Eats, Three Jimmy's, The Park Grill, and TGI Friday's.
Burger-lovers from Indiana, Ohio, Tennessee, North Carolina, Maryland, Mississippi and more participated in the popular foodie event, voicing their vote for their favorite burger via social media and by Passport.
For valiant effort in participation, Gatlinburg will reward James E. Jackson from Knoxville with a Gatlinburg Goodie Pack. Jackson sent in his Passport with a total of 9 burgers eaten throughout the week. For more information about Gatlinburg events, visit Gatlinburg.com/events.