Convention Center Catering
The Gatlinburg Convention Center relies exclusively on Holston's Kitchen Catering Company to provide all the meals, snacks, and beverages that hundreds of thousands of guests enjoy each year.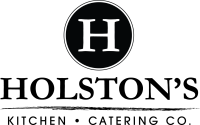 The combination of East Tennessee's classic flavors, fresh local ingredients, and Holston's world-class hospitality creates an excellent dining experience in any setting.  Whether serving thousands, a few hundred, or an intimate gathering, Holston's Kitchen Catering Company's goal is to ensure a memorable experience.
Holston's – A Long-Standing East Tennessee Legacy
Holston's Kitchen Catering Company, a division of KBS Restaurant Group, has been an East Tennessee staple for many years.  KBS Restaurant Group encompasses two Holston's Kitchen restaurant locations, three No Way Jose's restaurant locations (one in Gatlinburg), the world-famous Crockett's Breakfast Camp in Gatlinburg, The Greenbrier Restaurant in Gatlinburg, and Smith and Son Corner Kitchen, located right near the Gatlinburg Convention Center.  Holston's has been crafting innovative culinary creations for a vast array of corporate and social events throughout Tennessee for 20+ years.  Led by its talented management team, Holston's Kitchen Catering Company focuses on detailed planning, delicious food, and superb service.
Innovative Culinary Creations
Holston's Kitchen Catering Company has a diverse variety of concepts, but the freshness of food is never compromised. Everything is made from scratch – from the biscuits to the salad dressings, everything starts with the freshest ingredients and is prepared daily in the convention center kitchens and the nearby KBS Restaurant Group Commissary. The staff of Holston's Kitchen Catering Company is dedicated to the idea that getting the best ingredients means serving the best food, at a great value with great service. Holston's Kitchen Catering Company is also dedicated to serving healthier options, and addressing dietary restrictions by offering vegan, vegetarian, keto, paleo and gluten-sensitive options in their banquet and concession areas. If you have any specific needs or concerns, please let Holston's know and they will gladly address them.

Holston's Kitchen Catering Company
Jenn Carson
Director of Food & Beverage
Phone: (865) 436-7786
catering@gatlinburg.com