Why Gatlinburg Convention Center?
It starts with the space. There are more than 160,000+ square feet of flexible meeting space. Additionally, the Convention Center is within walking distance of the attractions, restaurants and lodgings in downtown Gatlinburg.

The Gatlinburg Convention Center has played host to a wide range of functions such as product trade shows, dance and cheerleading competitions, religious conferences, corporate functions and association meetings. Whether your gathering is for 60 or 6,000, we will work with you to accommodate your needs and help you host an exceptional event.
Located at
234 Airport Road, Gatlinburg, TN 37738
The Gatlinburg Convention Center
The Gatlinburg Convention Center is the first in the region to achieve the Global Biorisk Advisory Council® (GBAC) STAR™ accreditation, the gold standard for prepared facilities. Under the guidance of GBAC, a Division of ISSA, the worldwide cleaning industry association, the Gatlinburg Convention Center has implemented the most stringent protocols for cleaning, disinfection, and infectious disease prevention in its facility.
As the cleaning industry's only outbreak prevention, response, and recovery accreditation, GBAC STAR™ helps organizations establish protocols and procedures, offers expert-led training, and assesses a facility's readiness for biorisk situations. The program verifies that the Gatlinburg Convention Center implements best practices to prepare for, respond to and recover from outbreaks and pandemics.
"GBAC STAR™ accreditation empowers facility owners and managers to assure workers, customers and key stakeholders that they have proven systems in place to maintain clean and healthy environments," said GBAC Executive Director Patricia Olinger. "By taking this important step to pursue GBAC STAR™, the Gatlinburg Convention Center has received third-party validation that it follows strict protocols for biorisk situations, thereby demonstrating its preparedness and commitment to operating safely."  
To achieve GBAC STAR™ accreditation, Gatlinburg Convention Center was required to demonstrate compliance with the program's 20 core elements, which range from standard operating procedures and risk assessment strategies to personal protective equipment and emergency preparedness and response measures.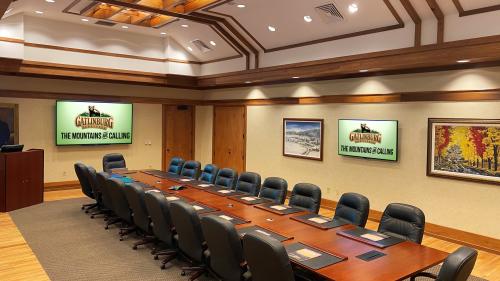 The Gatlinburg Convention Center team will ensure that your function goes according to plan and stays on budget. Our services are just as exceptional as our facility. In the planning stage, our experienced staff can assist you in locating hotel rooms, setting up site inspections and supplying informational brochures. Our kitchen is fully staffed with an accomplished chef, providing exceptional food, flowers, wine and spirits for groups from 10 to 3,000
The Great Hall
The Great Hall provides 67,000 square feet of exhibit space, 50,400 square feet of which is free-span, and can accommodate 6,000 people in theater seating and 350 exhibitor booths.  The Great Hall can be divided into three separate halls for smaller events, has a ceiling height of 30 feet, and is column free.

Tennessee Ballroom
The Tennessee Ballroom provides 17,064 square feet and has a ceiling height of 27 feet.  It can accommodate 2,100 people in theater seating, 1,050 people in banquet round seating and can be divided into four separate sections for smaller events.
Mills Auditorium
The Mills Auditorium provides 8,800 square feet and has a ceiling height of 22 feet.  It can accommodate 1,100 people in theater seating and 580 people in banquet round seating.  The auditorium comes with a 925-square foot built-in stage. The Gatlinburg Boardroom and 16 meeting rooms round out the offering of venue space in the convention center. No matter your preference, Gatlinburg can accommodate your needs and desires. Contact us today to plan your event.
Meetings in Gatlinburg
Meetings in Gatlinburg are enhanced by the wide variety of accommodation options. Gatlinburg offers 16,000+ sleeping rooms, including full service and limited service hotels and motels, condominiums, chalets, cabins and campgrounds. These accommodations are available at a variety of locations from downtown overlooking the Little Pigeon River to a mountaintop overlooking the Smoky Mountains to secluded natural surroundings. No matter what your preference, Gatlinburg can accommodate your needs.
Our friendly and knowledgeable staff are ready to assist you with virtually every aspect of planning your meeting or convention. We're here to help your Gatlinburg event go smoothly and answer any questions you may have while planning your event. Send us an email at sales@gatlinburg.com to start planning your Gatlinburg meeting or convention. Click here to see a list of Sales and Convention Center Staff.