[caption id="attachment_509" align="alignleft" ]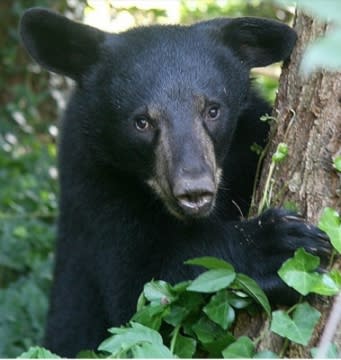 Black bears are a not uncommon site in Gatlinburg.[/caption]
Wildlife is abundant in Gatlinburg, and Cades Cove, a beautiful 6800 acre valley setting within the Great Smoky Mountains National Park, is one of the most popular places to see creatures in their natural habitat. Visitors to Cades Cove can see an array of wild creatures from butterflies to bears. Many people like to pack a picnic and bring the kids along to view the old homesteads on the Loop Road drive around the area. With over 150 camp sites and several nature trails, the area offers great opportunities to photograph all of the natural wonders including dozens of types of birds, ducks, deer, turkeys and more.
Speaking of turkeys, these creatures are some of the most interesting animals you can see in Cades Cove. Now's a great time to see the male turkeys strutting in all their glory trying to impress the hens. Google Image Search, Flickr and social networks are full of awesome photos people have taken of Cades Cove turkeys, even some walking in the snow! Your best opportunity to see wild turkeys is around dawn. They do fly, but only for short distances. Sometimes you will see them running. They are not the white turkeys that some people see on farms. These turkeys have dark feathers that shine in the sun, and large tails that look like rounded fans.
As you traverse the Great Smoky Mountains National Park be sure to take some time to notice some of Mother Nature's smallest creatures. Salamanders thrive in the park, giving this area the nickname, "The Salamander Capital Of The World". Dozens of types of salamanders can be found in the park, including Black-chinned Red Salamanders, Southern Red-backed Salamanders and Longtail Salamanders. Researchers have been studying declines in salamander populations in Eastern North America and have tried to discover if disease, over-collecting for pets, climate issues or other factors have contributed to these changes. It's safe to say that seeing these intriguing creatures can be an interesting experience.
Spring in Gatlinburg wouldn't be complete without fish. With over 2,000 miles of streams in Great Smoky Mountains National Park, visitors to this area will be treated to a veritable cornucopia of nearly 60 fish species. Brook trout are native to this area, but have had trouble competing with non-native rainbow trout. The park has been successful at restoring some of the range of native brook trout over the last quarter century. While some people like seeing fish, there are many others who love the sport of fishing. Find out more about trout fishing and Gatlinburg fly fishing vacations here. There are several outfitters in the area that can help you get ready for a great fishing vacation.
Surely black bears are the most popular creature in Gatlinburg. You can see them carrying their cubs, eating berries in the trees, and doing zany things like swinging in hammocks. It is not uncommon to hear visitors tell stories about bears roaming around their campsites and cabins. The nature trails in Great Smoky Mountains National Park are excellent areas to see bears. The high concentration of bears in the area does require people to exercise some care. While the bears are fun to look at, people need to keep their distance as they are large animals that can cause injuries to humans. One of the most important things visitors can do to ensure that there are no unsafe bear encounters is to not feed the bears. Running from a bear is not advised; but slowly backing away is recommended. If you must prevent a bear from continuing its approach towards you; try and throw items that make a clattering sound and that are not food.
A popular place to see black bears is at Ober Gatlinburg's Wildlife Encounter. You can observe and learn about bears there, along with birds of prey and a variety of nocturnal creatures like raccoons, possums, skunks and flying squirrels. While these animals live at the wildlife exhibit at Ober Gatlinburg they are representative of many of the creatures you will see in the wild here in the area. The Wildlife Encounter offers people a chance to see these creatures up close and learn more about them and their ways.
Download your free Gatlinburg vacation guide now.
Let us know what wildlife you've seen in Gatlinburg! Share your experiences with us in the comments, on Facebook, on Twitter @travelgburg, or on Google +!