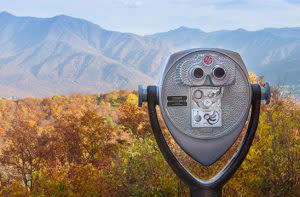 Once you start planning your Gatlinburg trip it's likely that a million thoughts will race through your head: When should we go? What clothes and luggage should we bring? Which activities should we try while we're there?
While all of these questions are important, the question that will affect your trip the most concerns your accommodations. Did you know that Gatlinburg lodgings are not restricted to just hotels; you can rent beautiful cabins and chalets; some of which can accommodate a dozen people or more.
A great two-part question to ask when planning your trip is where do I want to stay and what does that hotel or cabin offer me for my money?
Today it's pretty easy to search for lodgings online. Search engines will even show you photographs of rooms and provide you with price quotes with little effort on your part. The next step is a little trickier -- it's important to dig deeper to see what that room rate really provides. We've created the following list of questions that you can ask hotels and cabin rental companies on your 'short list'. At first it may not be apparent if a lodging choice fits your needs. A few inquiries can often uncover some great deals you may not have found otherwise.
OK, here's our list of potential 'Must Haves' that you can use when comparing lodgings in Gatlinburg:
Do they offer package deals?
Is the room or cabin accessible for those with disabilities?
Are the accommodations pet-friendly?
What about room discounts or upgrades? (i.e., weekday rates, special occasion deals, coupons, etc.)
Does it come with WiFi so you can stay connected (if you choose to)?
Do they offer tickets or discounts on area attractions?
What type of beds are available? While many people ask about the size of beds, others are more interested in hypoallergenic bedding or pillows.
If the room is in a hotel, where is the room located? Is it near the pool, does it have a good view, is it in a quiet area, etc.
Does the hotel have a business center? Often hotels have these centers which allow guests to use computers with Internet connections. The usually also offer fax machines, copiers, printers and even the capability to print out boarding passes. There are some hotels that offer upscale conference rooms as well.
Sometimes with older kids it's a good idea to stay in two connecting rooms. Ask if these types of rooms are available.
Couples who want to get away for the weekend may come up against a hotel that's overbooked. Some hotels have relationships with other hotels and they will cooperate with you to get you a room elsewhere, sometimes even for a lower price than you would have paid at the first hotel.
If you rent a cabin, that opens up a whole new set of questions. Is the cabin small and rustic or large and airy? The location of the cabin is key. Sometimes cabins are located very close together and the feeling of spontaneity and closeness to nature is lost. Thankfully social media and TripAdvisor can help people get a fairly accurate picture of a place, even if they have never visited there. Many cabins in Gatlinburg are located in awe inspiring areas with amazing views of the Smokies. You'll find that some of the higher quality chalets are mansion-sized with second floor wraparound porches. Visitors can grill outdoors and sit back and relax as they immerse themselves into the Smoky Mountains atmosphere. People love renting cabins as they like to be more connected to the outdoors with opportunities to see wildlife.
Others like to be located closer to downtown in a hotel because they have all the amenities available that you'd expect from a top hotel, such as room service, WiFi and a central location. You may be surprised however; many of the cabins are exceptionally well-appointed and offer many of the same niceties that hotels offer; including Internet, flat screen TVs and more. It really just depends on your preference. Fortunately regardless of the lodgings you choose, Gatlinburg is known for some of the very best hotels and cabins you'll find anywhere. Their welcoming atmosphere contributes to Gatlinburg's reputation as a top destination.
Are you ready to book your lodgings now? Please visit our website and use our handy booking tool.
Do you have any tips you'd like to share about booking lodgings in Gatlinburg? Share your experiences with us in the comments, on Facebook, on Twitter @travelgburg, or on Google +!