[caption id="attachment_527" align="alignleft" ]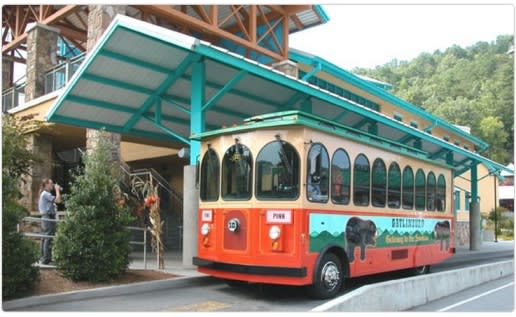 Trolley rides are part of Gatlinburg![/caption]
One of the best features in Gatlinburg is the trolley system. Look forward to a relaxing and fun way to get around town when you board one of the trolleys. The trolley fleet in Gatlinburg has grown from 6 to 20 trolleys over the last three decades. The trolleys run on an easy color coded system. There are 8 routes, and each one is dedicated to certain areas of town, or stops at certain attractions. The trolleys are very popular and serve about 800,000 riders per year. You can purchase individual rides (fares range from $0.50 cents to $2.00 depending on the route) or an All Day Trolley Pass for only $2.00 (except Tan and Pink routes). Exact change is required. Check the map below for all the routes and fees. All vehicles within the Transit Fleet are ADA equipped.
Buy an All Day Trolley Pass at Gatlinburg Welcome Centers, City Hall and the Mass Transit Center adjacent to Ripley's Aquarium.
Grab this handy PDF trolley map and schedule which is great to download to your phone or tablet:
http://www.gatlinburg.com/!userfiles/editor/docs/Trolley%20Map%202012-13.pdf
There are more than 100 locations within the city of Gatlinburg to board a trolley. Now that's convenience! The trolleys only stop at designated signs and shelters. Be sure to check the trolley schedule as some of the routes, such as the tan Great Smoky Mountains National Park route, are seasonal.
Here are a few popular trolley routes you can try:
Yellow Route: This route takes you to the Great Smoky Mountains Arts & Crafts Community. Fare is only one dollar. Exact change is required.
Pink Route: This is the Dollywood trolley. Dollywood is a theme park, family destination and venue where visitors enjoy live musical shows. It serves millions of guests each season and is owned by country music star Dolly Parton.
Tan Route: Enjoy this trolley that will take you to the Great Smoky Mountains National Park. It runs June - October, 9 a.m. to 7 p.m. This 90 minute route costs $2.00 round trip. Exact change is required.
Check out the Gatlinburg Mass Transit website that offers even more information, including a GPS trolley finder so you'll always be able to tell where the trolleys are!
http://www.gatlinburgtrolley.org/
Have you taken the trolleys in Gatlinburg? Share your experiences with us in the comments, on Facebook, on Twitter @travelgburg, or on Google +!