[caption id="attachment_1268" align="alignleft" ]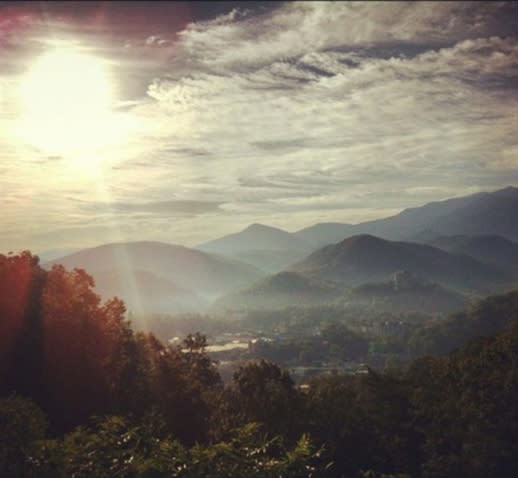 The beauty of Gatlinburg brought the first settlers to the area over 200 years ago.[/caption]
Perhaps you have visited Gatlinburg every year and never stopped to think about how the city got its name. Or maybe you have been quite aware of the area's rich heritage, but always wanted to know more. Either way you will surely learn about some colorful characters and unusual events when you delve into the history of Gatlinburg.
We thought it'd be fun to take our historical tour in the form of a quiz, to pique your interest. Don't worry, there are no wrong answers; just a fun journey across the years with some twists and turns and unexpected occurrences. We'll tempt you with a fact or two, then leave it to you to think about what comes next, or perhaps you'll be spurred on to do some more research on your own. At the end of this post we provide a link to some great info that will provide many answers to: 
How Did Gatlinburg Get Its Name and Who Settled This Area?
We Owe William and Martha a Debt of Gratitude
It all started with a woman named Martha Ogle. Martha was a strong-willed widow who raised her family here in the early 1800s. She arrived with her family in this area in 1807. You can still visit her cabin today. Her husband William Ogle first entered the area from South Carolina and called this a "land of paradise". Cherokee helped Ogle get his cabin built and he returned to South Carolina where he was going to make some final preparations for moving his family to Tennessee. Unfortunately he died of malaria, but Martha was determined to live in the favored land he had found for his family. Before our city was named Gatlinburg it was known by another name in these early days. What was that first name? Hint: It was named after a type of tree common to the area.
A Preacher and Storekeeper is Banished but Leaves His Name Behind
As the years passed more settlers came, but our area was just a small settlement then; far from the active and growing city it is today. Then in 1854 a colorful figure settled here who had a definite influence on Gatlinburg. He was an ostentatious man who quickly made himself well-known around town. He established his own Baptist church and also opened the second general store here. The most interesting fact about him was he was banished from the area. Who was this man and how does his name figure into our history?
Change and Growth for Gatlinburg's Residents as the 20th Century Dawns
Nearly one hundred years go by and Gatlinburg grows into an actual town. More settlers came; many of whom settled here after their service in the Civil War. Gatlinburg was initially neutral in the war then sided with Union troops to drive out Confederate soldiers. Various entities had offered subscription schools in town but there were no public schools until 1912. Other modernities and changes came to the area at the dawn of the century; including the influence of the timber industry, spurred on by the big lumber companies buying up logging rights in the forests surrounding the Smoky Mountains. Who did some of the first hotels house here in Gatlinburg? Hint: They were rather well-to-do travelers.
Arts & Crafts and the Establishment of Great Smoky Mountains National Park
In 1937 the Arts & Crafts Community was established in Gatlinburg. With over 100 artists and craftsmen, Gatlinburg's Arts & Crafts Community is a living, breathing tribute to the history of Tennessee. The carvers, weavers, watercolor artists, casters, soap makers, potters, silversmiths and dozens of other artisans exhibit their skills before thousands of visitors. The community is set on an 8 mile loop road that's designated a Tennessee Heritage Arts & Crafts Trail. Today it is a highly popular stop for visitors to Gatlinburg.
Great Smoky Mountains National Park was officially dedicated in 1940. The park offers visitors the opportunity to immerse themselves in some of the most beautiful and varied natural surroundings on the East Coast. With miles of trails, multiple waterfalls, dozens of old homesteads and historical buildings and an abundance of wildlife (some species only found here in the park) on the ground, in the water and flying overhead, Great Smoky Mountains National Park is the setting for many of the most enjoyable activities that visitors can enjoy in our area. Camping, horseback riding, nature walks, children's educational programs and weddings are just some of the many experiences people enjoy in the park. Thousands of visitors return every year, drawn by the parks' commitment to preservation of this area's historical buildings and natural treasures. Did you know that there are over 80 historical buildings in Great Smoky Mountains National Park? Can you name some of them? Learn more about them here.
How We Got to Where We Are Today
All of this history leads us to where we are today and Gatlinburg owes so much to brave native people and subsequent settlers. The bravery and industry of these people can be admired almost everywhere you look. (Here's a good example: See this amazing photo of a 9,000 year old arrowhead found in the park http://www.nps.gov/grsm/historyculture/index.htm.)
Thanks for sharing this bit of history with us today. If you want to learn more, please see our post that delves even deeper into the history behind some of the old buildings and homesteads you can see when you visit.
So would you like to know how you did on our quiz? Most of the answers can be found here:
http://www.gatlinburg.com/things-to-do/culture-history/ How many did you guess?
What are your favorite Gatlinburg historical facts? Share your experiences with us in the comments, on Facebook, on Twitter @travelgburg, or on Google +!