[caption id="attachment_648" align="alignleft" ]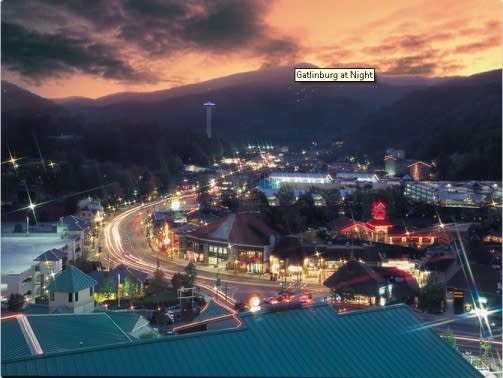 You'll love all Gatlinburg has to offer at night.[/caption]
Gatlinburg offers so many attractions to enjoy during the day, many people may wish to say 'whew' by the time evening comes and just opt to kick back and relax. Others may still have energy to burn and would like a guide to Gatlinburg's nightlife. While we'll stay impartial with our recommendations, we'll offer a taste of what's available for you after dark in Gatlinburg.
Superb Dining Choices
Recently we blogged about the incredible restaurants in Gatlinburg and how you can enjoy any number of local specialties and other favorites like Italian and Mexican food. The restaurants offer several different settings including the only rooftop patio venue in this area. So whether you like pizza, crawfish, lasagna, pancakes, steak, chicken, pork or vegetarian entrees and appetizers, you'll find them all here in Gatlinburg.
In addition to the amazing menu choices, some of the restaurant settings are unbelievable. There are restaurants high above Gatlinburg, and there are some unusual dining spots, like restaurants that serve more than two dozen types of pancakes. These are some of the experiences you'll only find in Gatlinburg.
Bars and Night Spots
You'll find some unique bars and night spots in Gatlinburg. Dancing on the bar is one fun and popular activity at one of the bars downtown. Karaoke is enjoyed at several of the nightspots, and dancing is hot at many of the bars. You'll also find a dance club downtown that accommodates dancers on a massive dance floor and sports enthusiasts upstairs at its bar with flat screen TV.
Some of the bars offer excellent food, so stop in and sample some beer battered mushrooms, chicken quesadillas, wings, breaded onion rings, trout and so much more while you enjoy live entertainment.
Check out some of the breweries that offer tasty micro-brewed beer. They also serve up delicious dinners and offer televisions galore so watching sporting events with friends is a great choice for an evening's entertainment.
A Night Out at the Theater
All of the Gatlinburg nightlife activities we've mentioned so far could act as either a prelude or follow up to a night out at the theater. There are some well-known dinner theaters in the Gatlinburg area, and one of them has a small, comfortable setting where the audience and the players can interact before and after the shows. A number of the theater performances are based on vaudeville or variety shows and included take offs on famous stories with an added comedy twist.
Go Up, Up and Away!
This is a Gatlinburg 'must-see' attraction, especially at night. Downtown at the Space Needle, you'll find a 407' tall structure that's the tallest man made point in the Smokies. You can buy a ticket to ride to the top and survey all of Gatlinburg and the surrounding area. It has its own theater too and features magic shows, hypnotists and other acts. You'll find restaurants nearby that make this attraction perfect for the whole family who wants to enjoy time together.
While it's fun to check out the range of unique atmospheres available at the various nightspots, food is always a highlight. Take your time stopping in to several of the Gatlinburg bars, grills and restaurants and eat your fill of some great specialties like sautéed mussels, prime rib, fried green beans, rotisserie chicken, steak stuffed with crab meat and so much more. Don't wait -- Get here soon and see what the night holds for you in Gatlinburg.
Download your free Gatlinburg vacation guide now.
Which night spots have you visited in Gatlinburg? Share your experiences with us in the comments, on Facebook, on Twitter @travelgburg, or on Google +!