When you want to escape the every day, Gatlinburg is the perfect place to plan a getaway. In the spring, Gatlinburg's beautiful mountain scenery truly comes back to life, and visitors can enjoy breathtaking scenes of natural beauty. In the Smoky Mountains surrounding Gatlinburg, you can view some of the area's incredible Appalachian wildlife and the diverse species of plants. During spring, Gatlinburg becomes an oasis of natural beauty for people of all ages to explore.
Discover all that Gatlinburg has to offer this spring on an excursion through the Smokies. Download your free Gatlinburg vacation guide here to start planning your trip!
Bears, Oh My!
Gatlinburg and the Smoky Mountains are a natural black bear habitat, and chances are high that once spring rolls around, you will be able to catch a first hand glimpse of these wonderful creatures. The bears are trademark of the Smoky Mountains. Remember to proceed with caution when in the presence of the bear, and do not feed them. To read Great Smoky Mountain's National Park guidelines on bear encounters, please visit: http://www.nps.gov/grsm/naturescience/black-bears.htm.
While the bears can be an endless source of entertainment for visitors, make sure to keep your distance – especially from the cubs! While they may look the least dangerous, the mother bear is often not far away and can pose the greatest threat. Enjoy viewing these majestic creatures from afar, and make sure to bring a camera with a great zoom lens so you can capture these once in a lifetime memories and relive them for many years to come!
Explore Other Species of Wildlife in the Smokies this Spring
While bears are one of the most beloved species of wildlife in Gatlinburg and the Smoky Mountains, bird watchers can also enjoy viewing the diverse selection of birds indigenous to the area. Over 200 species of bird live in and around the Smoky Mountains, and most of them will be out in full view during the spring. Gatlinburg is also home to select species of elk and deer, so travelers can view many kinds of wildlife while visiting the Smokies!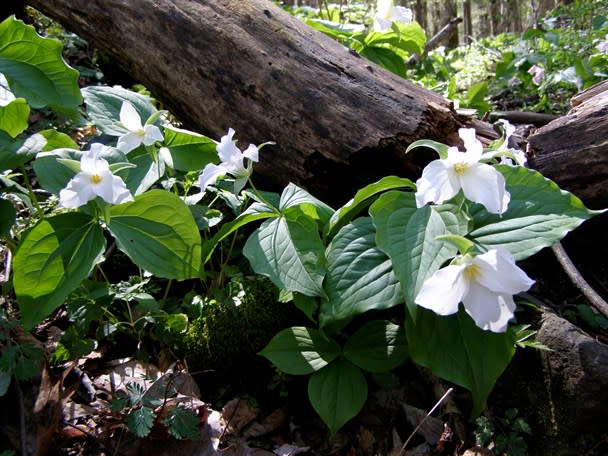 Springtime Appalachian Scenery
One of the reasons that so many people come to Gatlinburg is to view the stunning scenery of the Smoky Mountains. 95% of the park is covered by trees, plants, and forests, and spring is the perfect time of year to take it all in. The brilliant blues and greens interspersed coupled with the blossoming wildflowers make Gatlinburg the perfect place to enjoy a calm oasis of natural beauty and wonderment.
What was your most exciting wildlife encounter in Gatlinburg? Let us know in the comments, on Facebook, on Twitter, or on Instagram.