[caption id="attachment_1482" align="alignleft" ]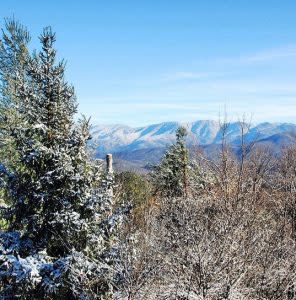 Bring your Valentine to see this lovely view in Gatlinburg![/caption]
Weekend getaways to Gatlinburg can be special in every season, but Valentine's Day is extra romantic here. This year Valentine's Day falls on Friday, so it sets up to be a great time to leave your cares behind and visit Gatlinburg. While there are many accommodations in our area, some of the most intimate are the cabins you can rent in Gatlinburg.
Cabin can mean different things to different people -- some are more rustic and cozy while others look like mansions that greet the Smoky Mountain skies. While we'll stay impartial and not recommend any particular cabin companies, here are some sample amenities you can expect to find in Gatlinburg cabins for Valentine's Day:
At least a two night cabin stay
Roses for your sweetheart
Hot tub
Champagne or wine
Chocolates
Free WiFi
Fireplace
Massages
Dinner catered to your cabin or a dinner voucher for a fine local restaurant
Snack or breakfast basket
Be sure to check our Stay Deals page for the latest lodging specials. We offer two easy ways to book your cabin. You can do so from the gatlinburg.com website in just a few clicks. Or you can download our new apps and make your reservations from your mobile device. It's a good idea to check on various requirements such as minimum night's stay before you book your cabin.
The forecast for Gatlinburg for Valentine's weekend is, as of this writing, going to start out a bit snowy, then clear out to be wonderful, sunny and in the mid 40's - 50 degrees. The skiing, snow tubing and outdoor fun will still be going on at Ober Gatlinburg (weather permitting), which can provide you with a fun day together. You can also investigate the natural wonders around you at Great Smoky Mountains National Park. During winter it's a good idea to check here to learn which areas or roads may be closed due to the weather. Enjoy hiking on any of the park's 800 miles of trails. Winter offers a unique experience, as the leaves are down and you can see for great distances in many directions. Get trail maps here and check out our post about hiking safety. While that post discusses summer safety, many of the tips apply throughout the year. It's especially important to watch for black bears and to not leave food around to attract bears.
We offer this mini guide to some of the most popular trails in the area. If you are looking for an accessible trail, we'd like to highlight the .5 mile paved Sugarlands Valley Nature Trail. It offers various opportunities to see wildlife, a stream and even has bear paw prints in the pavement!
Another idea is to check with the cabin companies and ask them to set up a surprise for your sweetheart. There are companies who offer last minute and unique romantic packages. Talk to them about colorful ideas like balloons, rose petals, or Valentine's Day themed decorations. Best of all, ensure your cabin has a great view. Some of the most popular cabins have second floor balconies with breathtaking views of the Smokies which are sure to melt your heart on Valentine's Day!
Have you celebrated Valentine's Day in Gatlinburg? Share your experiences with us in the comments, on Facebook, on Twitter @travelgburg, or on Google +!