[caption id="attachment_476" align="alignleft" ]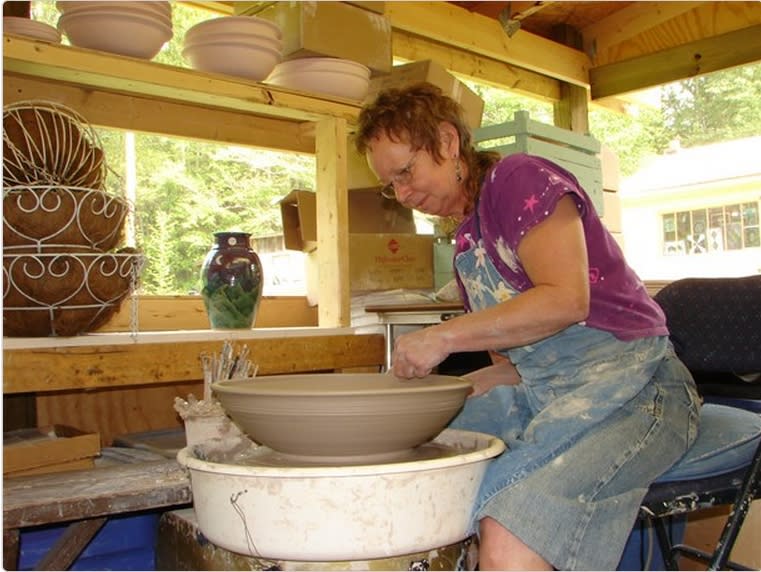 Visit Gatlinburg to see local artisans at work![/caption]
So you've enjoyed your trip to Gatlinburg and now it's time to decide on gifts to take home to family and friends, and some great mementos for yourself. A trip to the Great Smoky Mountain Arts & Crafts Community will provide dozens of gift ideas. While there are so many talented local craftspeople in this area, some of the most fascinating pieces created here are the one-of-a-kind candles and pottery.
See Candle Creation Firsthand
When you visit the candle makers in Gatlinburg there's more to do than buy keepsakes. Candle shops invite visitors to see candle creation firsthand, and the process is remarkable. Plain candles are not what you'll find in Gatlinburg candle shops. Some candles are placed in unique containers like jam jars. Others are highly scented. Still others look just like porcelain figurines and come in a wide assortment of sizes and types. You'll be able to find candles that look like finely carved bears, fish, mice or birds. There's a candle for most every interest, including religious figures, clowns, birthday bears and frogs. Many of these candles are beautifully hand painted; and you'd swear they were sculptures.
It's hard to choose just one candle that would be the best souvenir from Gatlinburg, but there are some that look like exquisite carvings of black bears. Since black bears are often seen in this area, one of these candles would surely bring back memories of your trip. For those who enjoy aromatherapy, several of the shops offer these products, plus incense, potpourri and candle accessories.
Enjoy Floral Scented Candles for Spring
Hurry in as some of the candle shops have special floral scented candles for spring. Some of the shops also offer handmade soaps. A good idea is to ask the proprietors about gift baskets. You could pick out several candles and soaps and have them arranged in gift baskets to ship to friends and family. Usually the stores have a 'no melt' shipping guarantee, but this is another good thing to ask about before making purchases. Shoppers can also request that store staff light a few candles to try out the scents before purchasing.
In addition to gift giving, Gatlinburg handmade candles are great for fundraisers or special events. If you have an event coming up, consider purchasing and shipping home a few dozen candles to sell. They'd surely make a unique item to help promote your organization. A good choice for fundraisers would be some of the unique pillar candles that the shops create. These come in diverse styles; with some wrapped in wood, candy canes, bows and much more.
Did you know: Many of the candles made in Gatlinburg are made from soy wax, which is a renewable resource and a clean, long and even burning wax. Soy wax (melted then cooled before applied to your skin) is a great moisturizer.
Gatlinburg Pottery Designs Reflect Natural Surroundings of the Area
If you're searching for some fun places to visit during your stay in Gatlinburg be sure to stop into some of the pottery shops in the Great Smoky Arts and Crafts Community along Glade Road. Local artisans offer some of the most beautiful pieces you'll find anywhere. Many pieces reflect the natural surroundings of the area and include leaf impressions, acorns and an array of blues, greens, reds, orange and other vibrant colors. You'll find every type of pottery to match your taste and budget including plates, bowls, mugs, pans, pitchers, lamps, candle holders and vases. There are even framed prints of artists at work. Wood, candles and soap are some of the other handmade items you'll find in the pottery shops.
Each piece of pottery is unique in shape and color. That fact alone makes pottery a great choice for decorating rooms in your home. Gatlinburg handmade pottery is not only beautiful, it can also be quite functional, too. Pottery pie plates, baking dishes, cups and more can lend a nostalgic air to any kitchen or dining room. Depending on the artisan, much of the pottery can be safely put through the dishwasher. It's a good idea to ask about the stoneware pieces you buy to see what common usage is for each piece.
Watch Gatlinburg Potters at Work
Even if you don't buy anything the stops at some of the pottery shops can be a lot of fun because you often can see the artists at work. Feel free to strike up a conversation with the potters and discover some of their ideas and inspirations for pottery making. Since pottery is so unique some visitors have said that they were able to find pieces for everyone on their holiday or special occasion gift lists. Some people like to purchase a piece or two every year upon returning to Gatlinburg, and have assembled impressive pottery collections that make distinctive conversation pieces.
Gatlinburg handmade pottery makes a beautiful and useful gift for yourself or friends and family. Once you find the pottery pieces you'd like to buy there's no need to wrap them yourself for your trip home. Usually the pottery shops offer shipping services and they will take good care of your pottery and arrange for its safe shipment.
There are so many delightful uses for handmade pottery. Remember your Gatlinburg trip every time you drink your morning coffee in a beautiful handmade mug. How's about a beautiful blue bowl to hold some garden fresh tomatoes? Why not a small, one-of-a-kind container as a pot to hold spare change? Or cut some daffodils and place them in a stoneware vase. These are a few ideas; let us know what pieces you purchase and how you use them!
If you visit Gatlinburg in April you can take advantage of The Yellow Trolley line to get to the Great Smoky Mountain Arts & Craft Community. Available 10 a.m. - 6 p.m. daily from April 5 - October and Monday - Saturday in November and December, the Yellow Trolley is the convenient way to go candle and pottery shopping.
Tell us about your visits with Gatlinburg artisans. Share your experiences with us in the comments, on Facebook, on Twitter @travelgburg, or on Google +!