3 Awesome Things to See on the Roaring Fork Motor Nature Trail
[caption id="attachment_1754" align="alignleft" ]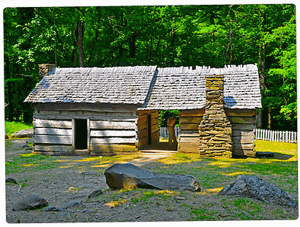 See great historical buildings like this on the Roaring Fork Motor Nature Trail.[/caption]
If you're keeping score of the most popular scenic attractions in Gatlinburg, then Roaring Fork has to be high on your list. This former homesteaders' site along Roaring Fork stream offers modern day visitors the opportunity to enjoy some of our area's most exquisite natural beauty. The motor trail is 6 miles long and over 90% of reviewers on Trip Advisor give it a big thumbs up! You can take in the sights and sounds any way you please on this trail. You can drive the entire route or pull over at various points and walk sections that interest you. Pick up an inexpensive booklet at the beginning of the trail and you'll have all the main landmarks identified for your trip.
Old homesteads: Some of the most popular sites on the trail are the old homesteads and grist mills. The Noah "Bud" Ogle homestead is the centerpiece here. It was settled by Mr. Ogle and his wife back in 1879. They had 400 acres cleared for farming, but today you'll notice that the forest has surrounded the cabin and barn. The Bales and Reagan farmhouses are located on the trail, and all these homes hearken back to a time when life was simpler and tied inextricably to the land. The people worked hard but were rewarded here on this beautiful land.
Waterfalls: Rainbow Falls and Grotto Falls are two of the most popular falls in this area that visitors enjoy. Rainbow Falls is named for the magical rainbow effect that the 80 foot high falls makes as it shimmers in the light. Grotto Falls is about 25 feet tall but you can walk behind it, and hikers and families take many photos of this unique feature.
Here are some more fun facts about Rainbow and Grotto Falls:
Rainbow Falls: The hike is about 5.4 miles roundtrip and ascends to 1500 feet. Hikers can continue to the summit of Mt. LeConte which is several miles beyond the falls. It's a pretty rocky hike. Some visitors have reported they benefited from bringing a walking stick along with them.
Grotto Falls: An easier walk. Watch for wildlife; you might see some salamanders and chipmunks along the way. The walk is about 3 miles roundtrip and ascends up to 450 feet. Some people like to go early so it isn't too crowded. Sit and dip your feet in the pool area!
Wildlife, flowers and a peaceful feeling: Black bears are one creature you may see along this trail, along with deer and dozens of native birds such as the Northern cardinal, black-throated blue warbler and the rose-breasted grosbeak. Wildflower viewing is another reason people like to walk along this trail. As you walk through the old-growth forest, spring violas and trilliums are some of the flowers you may see. For a first-hand view of some of the sights and sounds you'll encounter on a trip to Roaring Fork, please see this excellent video created by Charles Bishop, an area resident http://vimeo.com/56294067
So get your picnic basket and your camera ready for a few hours, or even a full day on the Roaring Fork Motor Trail. There's so much to see you're sure to keep this nature drive on your list of favorite places in Gatlinburg. Please note: This trail is closed in winter (approximate dates December 1 - April 1). Call ahead to the Gatlinburg Convention and Visitors Bureau at 800-588-1817 and see if it's open before you drive over. It will indeed be open all spring and summer, so enjoy!
Have you visited Roaring Fork? Share your experiences with us in the comments, on Facebook, on Twitter @travelgburg, or on Google +!