[caption id="attachment_567" align="alignleft" ]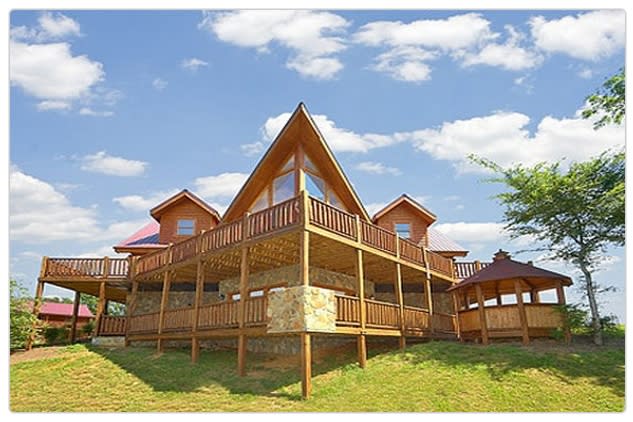 Stay in an awesome cabin like this with your pet![/caption]
You look forward for months to your vacation and there's so much to do to get ready. If you are a pet owner, one of the tasks that may need to be taken care of before you leave is deciding who will take care of your pet. Some people have friends or relatives stop by to feed the animal, and others take their dog, cat, bird or other pet to a boarding facility. In either case someone other than the pet owner cares for the pet and this can cause stress for both the owner and the animal. Changing routine is something that not only animals worry over; it also causes anxiety for people. Instead of worrying about how your pet is doing when you are away, why not take Fido or Kitty or Tweety with you? In the last few years more travelers have taken vacations with their pets, and many people wouldn't dream of leaving their beloved companions behind.
A range of accommodations from hotels, cabins to luxury chalets allows you to choose the most comfortable and convenient lodgings for you and your pets. Many of the pet friendly lodgings offer 5 star amenities to keep you and your entire party comfortable. You can even stay in cabins and hotels that offer all the comforts of home; including flat screen TVs and wireless Internet, fully equipped kitchens, satellite TV, stereo systems and Jacuzzi tubs.
Imagine these perfect vacation scenes: Losing yourself in the beauty of the Smokies as you luxuriate in a hot tub overlooking breathtaking mountain scenery. Walking your dog on a nature trail and feeling yourself relaxing in the clean country air. Playing with your cat inside your hotel room as he or she explores all the new nooks and crannies that are perfect for a game of pounce!
It's important to make a few inquiries of some of the local cabins and hotels before you decide on accommodations for your trip. Here are a few questions you can ask to help plan for your pet's stay with you:
Some hotels and cabins have limited availability - Ask about it and book well in advance.
Ask what kind of pets the hotel allows and if there are size limitations.
See what amenities are included (such as dog crates).
Ask about fees that need to be paid to accommodate your pets.
Thankfully there are many pet friendly cabins and hotels in the Gatlinburg area. Some of the cabins in Gatlinburg offer expansive living areas with two and even three levels, including wrap around porches at some of the larger cabins. Evenings sitting on the porch with your dog or cat at your side would certainly be preferable to worrying if they are adjusting to you being away.
Download your free Gatlinburg vacation guide now.
Let us know if you brought your pet with you to Gatlinburg! Share your experiences with us in the comments, on Facebook, on Twitter @travelgburg, or on Google +!