[caption id="attachment_619" align="alignleft" ]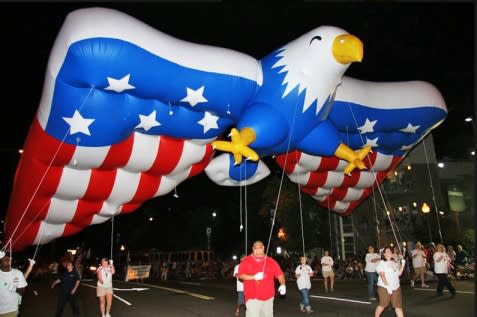 The Midnight Parade is the first July 4 parade in the country.[/caption]
Come to Gatlinburg to Celebrate the First Fourth of July Parade!
If you want to view the first parade in the nation on the Fourth of July, then be sure to come to the Midnight Parade in Gatlinburg. Gatlinburg's parade begins at 12:00 am sharp on July 4, so you can celebrate freedom bright and early on Independence Day!
This year is the 38th annual renewal of the unique celebration. Definitely get to downtown early (some people start setting up their folding chairs by 7 a.m. on July 3) as over 100,000 people attend this inspiring tribute to our country and the people who serve and have served to keep it free.
This year the parade's Grand Marshals will be Women Veterans and other U.S. Heroes. The Tennessee Department of Veterans Affairs Commissioner Many-Bears Grinder will be representing the Women Veterans as will members of the Women Veterans of America Chapter 20 from Nashville.
Come see the 572nd U.S. Air Force Band and members of the U.S. Army, U.S. Navy, U.S. Marines, U.S. Air Force, and U.S. Coast Guard who will all march in this year's parade. If you like vintage military vehicles you'll really love the parade this year. You'll also see decorated and lighted floats, horses, large balloons, police and fire department vehicles, bagpipes, marching bands, and more.
The parade route will extend from traffic light #1a on East Parkway, with the parade turning south onto Parkway at traffic light #3, then traveling the length of the downtown street to traffic light #10 at Ski Mountain Road.
Come Back Downtown for the Fireworks at 10 p.m. July 4
Once you have taken in the Midnight July 4th Parade, you can spend your day enjoying the sights in Gatlinburg. Gatlinburg offers the River Raft Regatta – an unmanned floatables race, and several free admission concerts where you can have some fun while you wait for the fireworks show on the night of the 4th. Be sure to come back downtown in time because at 10 p.m. on July 4th we'll cap off the day with a spectacular fireworks display.  The display takes place near traffic light #3 downtown. Gatlinburg's fireworks show is designated a Top 20 event by the Southeast Tourism Society. 
Download your free Gatlinburg vacation guide now.
Have you seen the parade in Gatlinburg? Share your experiences with us in the comments, on Facebook, on Twitter @travelgburg, or on Google +!