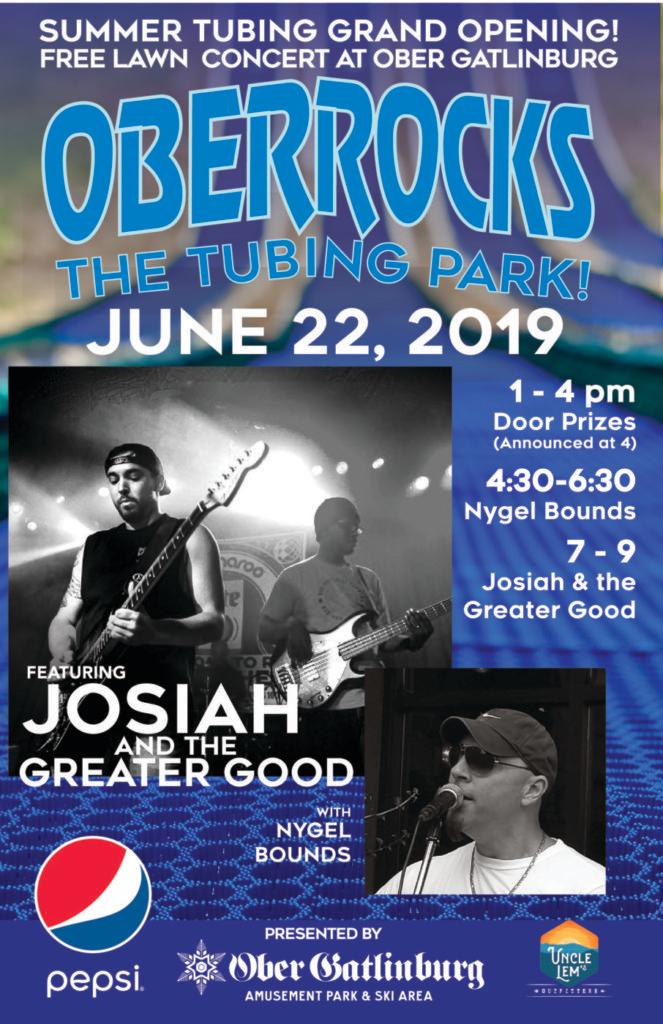 Each year Ober Gatlinburg Amusement Park and Ski Area rolls out additions and improvements and this year is no exception. The family-owned company recently opened their new Summer Tubing and will host a grand opening concert for the new Summer Tubing attraction.
The Grand Opening concert will be held on Saturday, June 22nd in the Tubing Park on the Mountain at Ober Gatlinburg. Nygel Bounds will open at 4:30pm and headliner Josiah & The Greater Good will take the stage at 7:00pm. The concerts are free to the public and attendees are welcome to bring lawn chairs or blankets if desired. Guests will be eligible to receive door prize tickets for each tubing run purchased, with the drawing taking place at 4pm. A second concert will be held Saturday, July 27 featuring Jimmy's Cheeks from Knoxville, TN.
While Summer Tubing may be new to East Tennessee, it is popular in Europe and many other parts of the world. The concept is simple. Ober Gatlinburg's infamous Magic Carpet carries riders and their tubes up to the top of the tubing hill. Then riders cruise back down on one of four 250' lanes. The lanes, manufactured by Neveplast, are made of synthetic materials. The slippery surface allows riders to feel the sensation of being on layers of compact snow. Eco-friendly, the Neveplast tracks also respect and preserve the environment and can be easily removed before the snow flies for the ski area's Snow Tubing season.
Ober Gatlinburg Amusement Park and Ski Area continues to be a favored year-round destination. This 2019 Summer Season will mark Ober Gatlinburg's 46th year as a summer destination offering the Ski Mountain Coaster, Wildlife Encounter, Indoor Ice Skating, Alpine Slide, Scenic Chairlift, Mountain Top Live Blue Grass Band, Summer Tubing, Ice Bumper Cars, Amaze 'n Maze, Chair Swing, Water Raft Rides, Mini Golf and other Kiddie Options.
For more information on Ober Gatlinburg and their events, contact 865.436.5423, visit www.obergatlinburg.com or email fun@obergatlinburg.com.