[caption id="attachment_594" align="alignleft" ]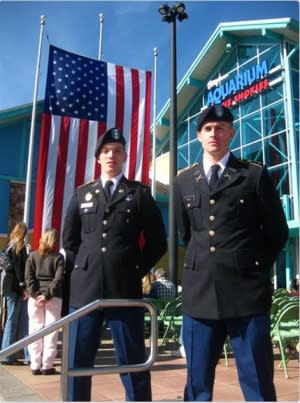 Active and retired military can enjoy discounts in Gatlinburg.[/caption]
Traveling to Gatlinburg is fun in every season but spring and summer offer many opportunities for activity and relaxation. If you or friends and family members are active duty or retired military it can pay to ask for discounts as many hotels offer them. Hotels are not the only places that offer military discounts. If you are planning a Gatlinburg wedding, a number of the chapels in the area offer special rates to military personnel. So if you plan ahead you can receive a discount for your lodging and your wedding; which can come to a savings of hundreds of dollars.
Tip #1: Some of the discounts may require you to stay in a hotel or cabin for a certain number of nights to earn a free night.
Tip #2: It's important to remember to present your military I.D. at check-in to ensure application of discounts.
As with senior citizen discounts, military discounts can apply to many of the area attractions. Museums, shops and restaurants are some of the most common places that offer these savings. A good question to ask cabins, wedding chapels and other attractions is if they are offering discounts only at special times per year, or year round. Some accommodations and venues offer consistent discount rates of 10% or more.
Be sure to check our deals page often as we are constantly updating it with the latest discounts.
We invite you to sign up for our e-newsletter where you can select the information categories that interest you; many of which alert you to special events and discounts. You can select from Attractions, Family, Kids; Nature, Sports & Outdoors; Arts & Cultural; Entertainment & Special Events: Parades, exhibits, live shows, food, etc.; Shopping; Dining; Wedding/Marriage; Hidden Gems - Little known things about the area.
Download your free Gatlinburg vacation guide now.
Did you enjoy a military discount in Gatlinburg? Share your experiences with us in the comments, on Facebook, on Twitter @travelgburg, or on Google +!