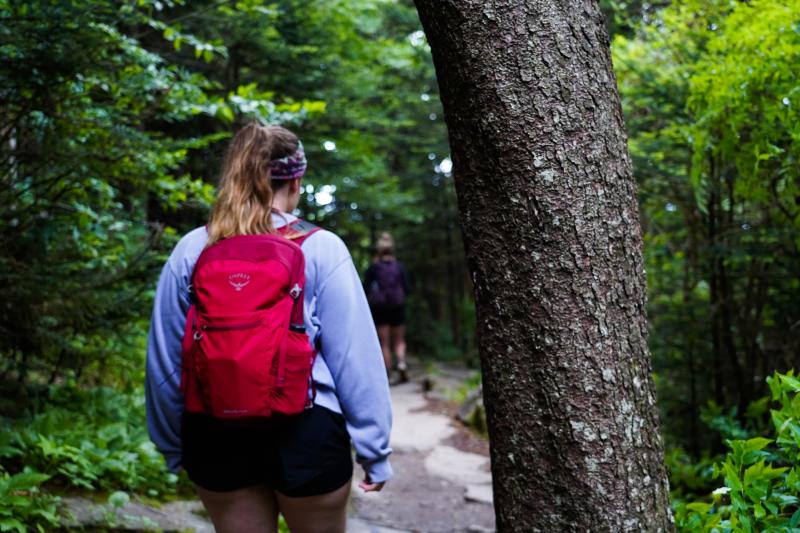 Of all the reasons to fall in love with Gatlinburg, easy access to spectacular trails tops our list. Whether you're an avid hiker or lacing up your boots for the first time, Gatlinburg has trails suited for all experience levels.
Few places in the country can rival the 24/7 amenities of Gatlinburg in such close proximity to pristine natural areas. As the most-visited national park, the majestic beauty and mountain charm of the Smokies draw droves of hikers every season.
Choose Your Own Adventure
"Know thyself" rings especially true when it comes to mapping a hiking trip. Consider your fitness level, party size, and time commitment before striking out on the trails. An honest assessment of your feelings about heights, remote areas, and wildlife encounters – and a reality check about your stamina and general health – will serve you well and make for happy trekking.
For an unforgettable first hike, determine which natural splendors you would like to explore. By planning ahead, you can surround yourself with wildflowers in bloom, witness frozen waterfalls or see kaleidoscopic fall vistas. Here are a few of our favorite hikes for beginners:
Grotto Falls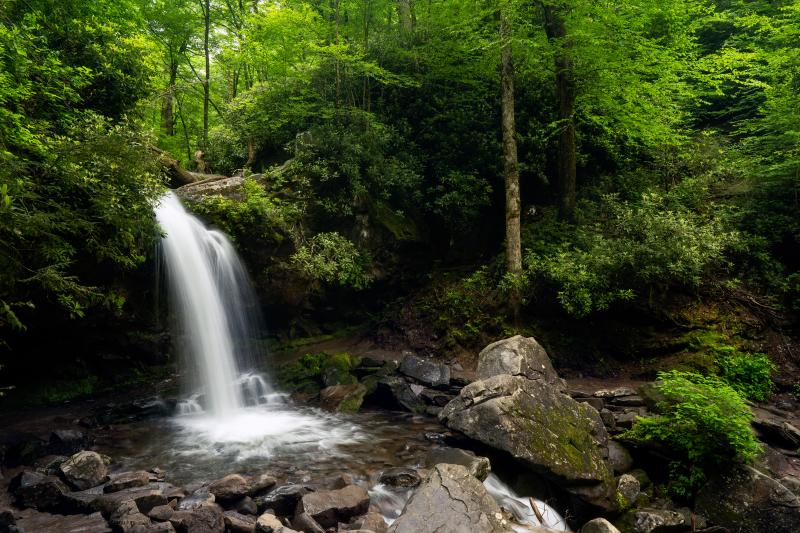 Step behind the wall of a 25-foot waterfall on Trillium Gap Trail for an immersive hiking experience. This winding walk through an old-growth hemlock forest is popular with salamanders and summer hikers. A 3-mile round-trip hike, Grotto Falls is considered moderate in difficulty. Hikers should wear appropriate hiking shoes and navigate the slippery-when-wet rocks surrounding the waterfall with caution.
Baskins Creek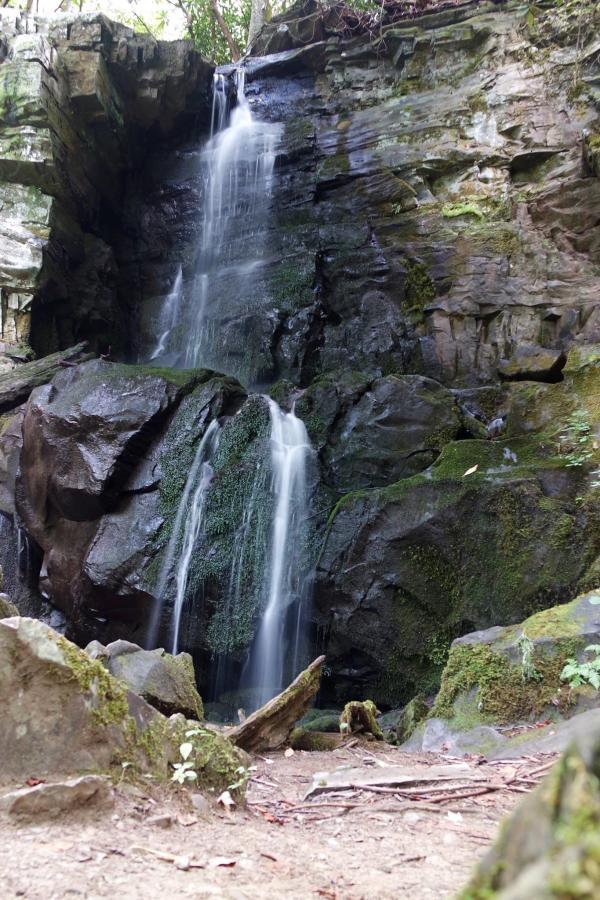 This 3-mile round-trip trail is one of eight scenic spots accessible off the Roaring Fork Motor Nature Trail in the Great Smoky Mountains National Park. Accessible to hikers of all ages, it features a 40-foot two-tier waterfall and a spot suitable for taking a break and enjoying a picnic.  
Gatlinburg Trail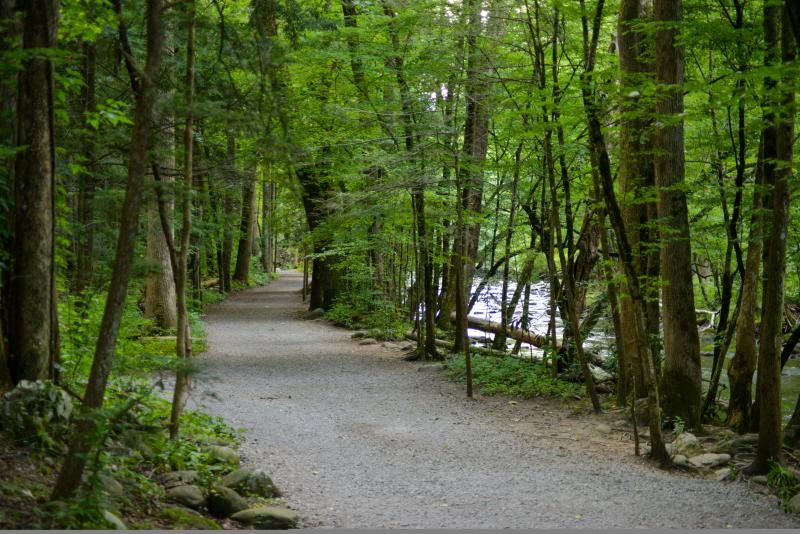 Pets and bikes, prohibited on most other Great Smoky Mountain National Park trails, are welcome on Gatlinburg Trail. Stretching 1.9 miles one-way, this flat route runs through the forest alongside the Little Pigeon River. A pedestrian footbridge across the river and several old homesites add interest.
Come Prepared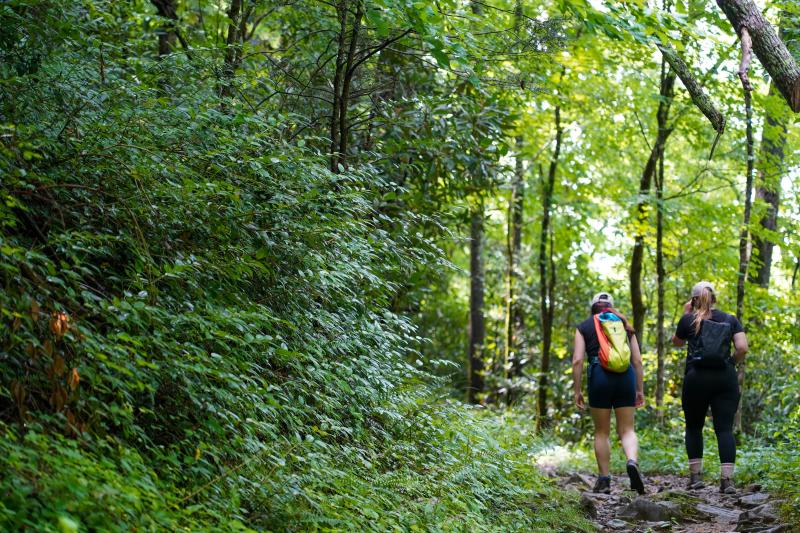 For the best hiking experience, come to Gatlinburg prepared for the trails ahead of you. By packing the right supplies, you can strike out with confidence and up your enjoyment level.
Here's a quick day hiker's backpack contents checklist to review before your trip:
Personal identification
Enough water for each member of your hiking party
Plenty of nutritious, high-calorie food for each hiker
Park map
Flashlight or headlamp (and extra batteries)
A poncho or packable rain jacket for each hiker
Matches
A whistle in case of emergencies
Extra clothing for each hiker, especially during colder months
The National Park Service lists failure to plan atop its list of factors responsible for hiking emergencies in the Smokies. Inadequate clothing, footwear, equipment, and lack of fitness can hinder hikers. Failing to keep the hiking party together and impaired judgment due to fatigue, exhaustion, or hypothermia round out the "don't do" list.
Consider a Guide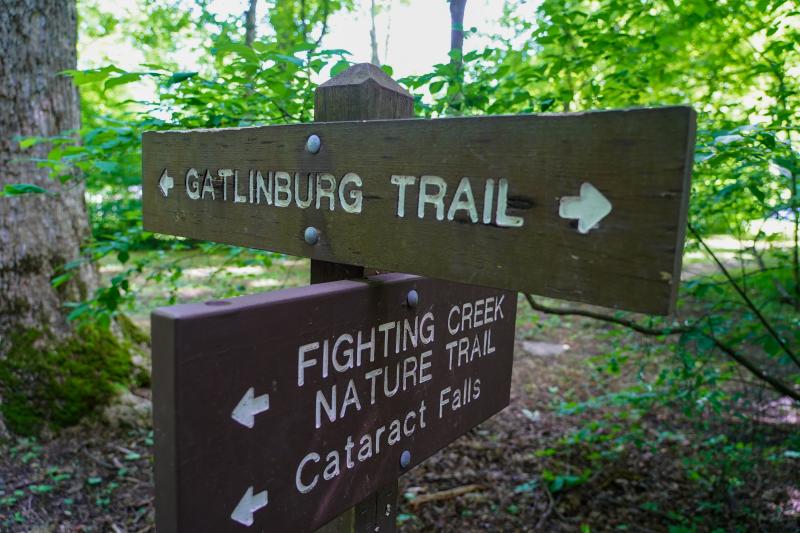 Sometimes a guide is all you need to take your hiking confidence to the next level. Whether you have a large group, small children, health concerns – or would just enjoy pro advice – outfitters such as A Walk in the Woods or Smoky Mountain Guided Hikes can help you map out your trip based on your experience and goals.
With a little preparation and planning, you're bound to make lasting memories as you hit the happy trails of Gatlinburg.