[caption id="attachment_1850" align="alignleft" ]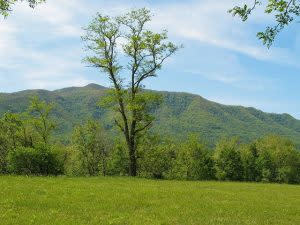 See gorgeous scenery when you go camping in Gatlinburg.[/caption]
Visitors flock to Gatlinburg each summer to enjoy the remarkable natural splendor of Great Smoky Mountains National Park. This park is the most visited National Park in the nation, and camping is one of the most popular activities that visitors enjoy there. The park offers four types of camping, from the more challenging backcountry variety to the tamer frontcountry experience. All camping in the park carries with it a certain element of risk along with extraordinary opportunities to immerse yourself into some of the most remarkable natural beauty around. Let's take a look at each type of camping and get the necessary details to plan your trip.
Backcountry Camping
The park doesn't charge an entrance fee, and the fees for backcountry camping are quite low, starting at $4.00 per person. (find all the information you need about reservations here). Backcountry camping is popular because you (and your group, if applicable) can hike in several miles into the park and find the perfect spot to camp. With over 800 miles of trails to explore, you're sure to find some amazing camping spots within the range of the available backcountry campsites.
Please note that your party cannot exceed 8 (and may need to be fewer than 8, depending on other regulations). It's also important to learn about bear safety and realize that camping in the backcountry is not without attendant risks. The park asks you to learn about bear safety so you can plan ahead. The importance of not feeding or encouraging contact with black bears cannot be stressed enough. Please read this bear behavior and safety information before you go camping in the backcountry (or anywhere in the park, for that matter) http://www.nps.gov/grsm/naturescience/black-bears.htm
Horse camps
If you yearn for a simple form of camping that includes your horse, then this is the camping choice for you. The park offers 5 backcountry horse camps. You should reserve your spot at one of the camps ahead of time and you will have to indicate the number of horses and people that will be staying at the campsite. One camp is located 30 miles outside of Maryville, TN and another is located 16 miles east of Newport, TN. The other 3 camps are located in North Carolina. This page will acquaint you with what to expect at the horse camps and provide you with the details you need to make reservations and plan for your trip: http://www.nps.gov/grsm/planyourvisit/horsecamps.htm 
Frontcountry Camping
You can also opt for frontcountry camping, which provides you with an enjoyable camping experience without the need for backpacking and hiking into your campsite. Check this page for reservation information and fees: http://www.nps.gov/grsm/planyourvisit/frontcountry-camping.htm. These developed campsites have many of the same amenities, including flush toilets. No showers, water or electric hookups are available at these campsites, but the restrooms include running cold water. You can even access some basic goods and groceries via these campground stores and concessions: http://www.nps.gov/grsm/planyourvisit/goodsandservices.htm.
So if you run out of batteries, film, basic groceries, ice or other convenience items, check these stores which may have what you need.
Group Camping
Seven sites are open for group camping. These sites are only open to campers with tents. Please note that the minimum size for a group is seven. You can stay for several nights if you wish, up to 14 nights. Your trip needs to be reserved and this page offers all the details. The chart on the park's Group Camping page includes the specific dates that the group campsites are open.
Have you camped in Great Smoky Mountains National Park? Share your experiences with us in the comments, on Facebook, on Twitter@travelgburg, or on Google +!