Gatlinburg's Winter Magic Festival begins on November 7th, 2012 and runs through February 28th, 2013 in Gatlinburg. During Winter Magic, visitors will be able to enjoy the timeless light displays that are now an iconic part of Gatlinburg's holiday festivities in a new and exciting way. The Trolley Ride of Lights is a guided excursion through the area that gives visitors a great view of the beautiful lights in Gatlinburg. Now you can get into the holiday spirit with a relaxing ride through the Smokies on a Gatlinburg trolley.
Holiday Lights and Magical Moments on the Trolley Ride of Lights
The Trolley Ride of Lights designates certain trolleys to carry their guests on an unforgettable journey through the downtown area and Highway 321 to experience the best of Gatlinburg's Winter Magic. During the Winter Magic Festival, you can catch a trolley and enjoy an excursion through beautiful downtown Gatlinburg so that you can see the brilliant lights and one-of-a-kind lighting displays.
When and Where can You Catch the Trolley Ride of Lights?
Gatlinburg's Trolley Ride of Lights runs at 6:30 pm, 7:30 pm, and 8:30 pm every night while the lights are up. The only exceptions are on December 7th (the day of the Gatlinburg Christmas Parade), Christmas Eve, and Christmas Day. You can catch one of the specially designated trolleys at traffic light #5 in downtown Gatlinburg (the trolley stop adjacent to Ripley's Aquarium of the Smokies.)
See the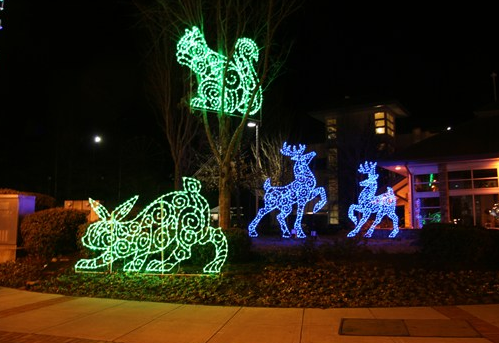 Dazzling Lights from the Comfort of a Gatlinburg Trolley
Gatlinburg's Winter Magic features scintillating light displays of animals, snowmen, reindeer, landscapes, dancing fountains, and other festive decorations. All of Gatlinburg's lights have been converted from incandescent to LED bulbs, making this light display even more brilliant and environmentally friendly. Gatlinburg is committed to keeping the area beautiful and conserving the environment, and the new LED lights save the City 95% in energy consumption. Gatlinburg has also undertaken many other green initiatives. You can read more about them at GatlinburgGoesGreen.com.
Are you ready to experience Winter Magic through a narrated tour on a Gatlinburg trolley? Now you can soak up the holiday spirit with a fun filled tour through downtown. As the trolley winds its way through Gatlinburg, your tour guide will give you insight into the inspiration behind all of the timeless light displays in Gatlinburg.
Tickets for the Trolley Ride of Lights are $5 per person. You can reserve your seat here, call (865) 277-8222, or visit Gatlinburg.com for more information.
Have you taken a ride on the Gatlinburg Trolley Ride of Lights? What did you think? Tell us in the comments section, on Facebook, or Tweet it to us!