Are you waxing your skis getting ready to visit Ober Gatlinburg? As of this writing three slopes are open and the anticipation has developed into delight as ski season is here! While nature will hopefully provide lots of the white stuff, Ober certainly can make it happen on its own with its snow making equipment. Now's the time to get on up to Ober and celebrate winter sports season!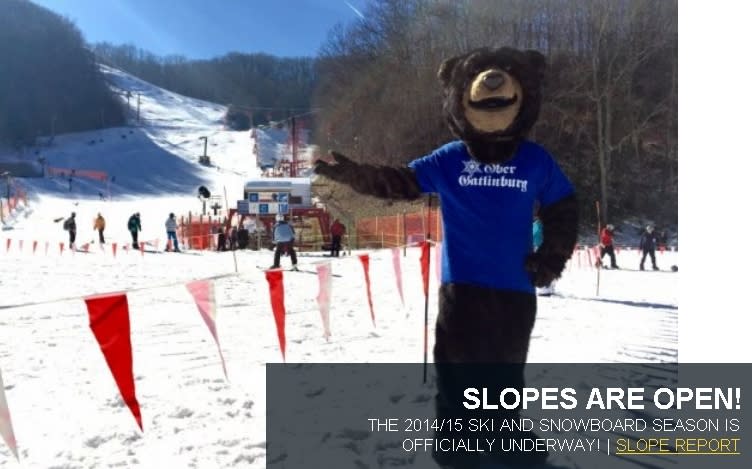 Ready to go skiing? Start with taking the tram up to Ober Gatlinburg and then get ready for all the fun at Tennessee's only ski resort!
Have you always wished to go on a ski trip, but never learned to ski? There's no reason to hesitate if you don't know how to ski. You can join in the fun with ski lessons at Ober Gatlinburg. The Gatlinburg Snowsports Center makes learning to ski or snowboard fun for any age. Learn the techniques you need to know to get the most out of your Ober Gatlinburg winter sports experience.
Lessons are not just for beginners. Even intermediate and more advanced skiers and snowboarders can learn some new techniques. Plus it's great to get the gang together and join a class or attend a private lesson. The Gatlinburg Snowsports Center even offers multi-week programs for those of you that live in the area. Their winter programs can help you or your children build up your confidence and skills and achieve a new level of expertise. Find out more about these programs here http://gatlinburgsnowsports.com/winter-sports-school-programs/.
If you'd rather take to the slopes right away, Ober Gatlinburg offers a variety of ways to enjoy your day. In addition to the ski school trail, there are 8 different trails you can explore (they all should be open soon, depending on the weather), plus a Freestyle Terrain Park. This page offers all the slope details and will provide a slope report: http://www.obergatlinburg.com/ski/slope-report/
Cub Way is great for beginners. Ober offers 5 intermediate slopes of varying lengths and inclines. They also offer two advanced slopes; one shorter (Mogul Ridge) and one that's quite a bit longer, at 3,800' (Grizzly). Four lifts service the slopes, including a surface lift, two quads and one double lift. With 100% snowmaking capability on all of their slopes, the cold weather is the signal that gets the snow machines running! Ski season begins around now in mid-December and usually runs until early or mid March. The weather will of course dictate the length of the season, and Ober's website will keep you updated on the latest conditions. Many people consult their Facebook page, too, to get the latest information: https://www.facebook.com/obergatlinburg
Want to see an awesome snow making video Ober posted on Oct. 21? It will surely get you in the mood for the season! http://on.fb.me/1th9vLV
But What About the Snow Tubing?
Families just love snow tubing and it's a great sport because kids of every age can have fun. Ober Gatlinburg's snow tubing has been open for a few weeks and will remain open through Easter 2015.
Weather and availability may affect your opportunity to go tubing on the day you select. Tubing sessions sell out on a first come, first served basis. Your ability to allow for some flexibility in your schedule will help prevent disappointment. This page has all the tubing information, dates and rates: http://www.obergatlinburg.com/rates/tubing-tickets/
What's great about tubing is it's a lot like sledding but you won't have to walk back up the hill!
Get the kids ready for some snow angel making along with the tubing. There's even an ice skating rink that's a lot of fun if you want to come in from outside and enjoy a little time on the ice. Don't forget the wildlife encounter and the scenic chairlift! Ober Gatlinburg offers so much to do, you could spend the whole day there.
Is that a chill wind that started blowing from the mountain? It's time for winter sports season!
Have you taken a winter vacation in Gatlinburg? Share your experiences with us in the comments, on Facebook, on Twitter @travelgburg, or on Google +!