[caption id="attachment_1008" align="alignleft" ]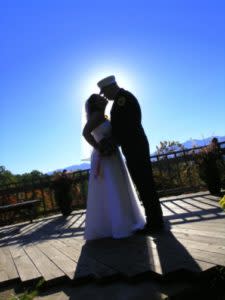 Gatlinburg is the perfect place for your wedding.[/caption]
Your choice of wedding venue in Gatlinburg is one of the most varied that you'll find anywhere. You can be married in a private in-cabin ceremony, in the National Park with some of the most glorious scenery in the country as the backdrop, or in one of the many beautiful and charming  Gatlinburg wedding chapels.
Any of the beautiful waterfalls in Great Smoky Mountains National Park would make a perfect backdrop for a wedding. Laurel, Grotto, Rainbow and Abram Falls are three of the most popular falls in the park. See our post about hiking to these and other falls to get a feel for this area. The upper elevations receive plentiful rainfall in most years, and in some years the rainfall totals several feet. It finds its way to the lower elevations and the many waterfalls in this area have no shortage of water to supply their rushing cascades. The sights and sounds that make up these waterfalls are perfectly suited to wedding ceremonies and unforgettable photography opportunities.
One of the most beautiful natural areas in the park is Cades Cove. With over 6800 acres of scenic beauty, this favored spot offers a variety of possibilities for wedding venues. Some people favor a rustic theme for their wedding. The old homesteads located throughout Cades Cove, such as John Oliver's Cabin and the last standing mill left in Cades Cove, the John P. Cable Grist Mill (dating from 1868), provide an historical flavor that mixes well with the fall foliage. To find out more about these and additional historic landmarks in the area, please see our Historic Gatlinburg Mini-Guide.
Download this National Park Special Permit Use Policy if you are thinking of holding your wedding in the park. This information will help you learn about the regulations regarding park weddings and it offers permit application details.
If you are looking for a chapel in which to hold your wedding, Gatlinburg provides a wide range of choices. To begin, we recommend that you check our Deals page for the latest wedding package deals. There is a chapel that is offering free ceremonies on Veterans Day to wounded warriors. Another offer provides 50% off four different wedding packages. Other chapels combine the ceremony and honeymoon cabin into one package for a special price. Another good deal saves you 25% on your wedding if you have the ceremony performed on a weekday. Be sure to check our Deals page frequently as we constantly update it.
See this weddings page on our site for even more wedding specials and discounts to help you with your planning.
If you choose to book your own honeymoon suite or cabin separate from your wedding ceremony, be sure to visit our site and book your room (or cabin, chalet, bed & breakfast or other lodging) today!
Were you married in Gatlinburg in the fall? Share your experiences with us in the comments, on Facebook, on Twitter @travelgburg, or on Google +!