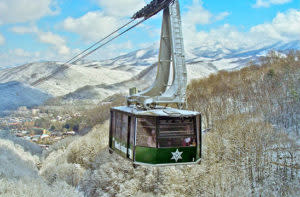 One of the best things about visiting Gatlinburg in the winter is the variety of free and budget-friendly activities you'll find. For example, the Trolley Ride of Lights is still going strong until January 25. Enjoy a fun trolley ride through Gatlinburg so you can see the dozens of light displays lit by thousands of LED lights. Gatlinburg's change to all LED lights allows it to light the entire set of displays all winter for what it used to cost to light them for 3 days. Check out our recent post about the Ride of Lights and get in on it before the season ends!
The Aerial Tramway is one of the most famous attractions in Gatlinburg. It's an easy escape from bustling downtown Gatlinburg to all the skiing, snow tubing, snowboarding, ice skating and fun Ober Gatlinburg has to offer at the top of the mountain. The ride on the Tramway is 2.1 miles of beautiful sweeping views of the Smokies. Find out more about accessing the Tramway and get ready to try all of Ober's winter sports this winter!
Shopping is always fun in Gatlinburg and if you don't want to spend much money, you can leisurely window shop through downtown's many interesting galleries and boutiques or head over to the the Arts & Crafts Community for live demonstrations from crafters and . Get more shopping information and enjoy all of the quaint shops, the Arts & Crafts Community and many more shopping experiences. We also have several interesting museums in Gatlinburg where you can shop for souvenirs. Another great idea is to visit the outfitter shops in the area. You can find name brand outdoor gear for any winter sport and some of the outfitters offer food samples, raffles, kids' activities and clinics and demonstrations by local businesses and non-profits.
A winery tour (or two) is always a great way to spend the day. Gatlinburg is known for its local wineries and you can get samples and also have the wineries ship their products to your home so you can remember Gatlinburg every time you sip these local favorites.
Of course, one of the most popular reasons that people come to Gatlinburg is to hold their wedding here. Winter is a beautiful time in Gatlinburg, and what could be more romantic than a wedding with the snow-covered Smokies as a backdrop? Can't wait till spring to have your wedding in Gatlinburg? Then check out our Weddings page now and have your wedding here soon!
Have you visited Gatlinburg in the winter? Share your experiences with us in the comments, on Facebook or on Twitter @travelgburg.