Coming to Gatlinburg on vacation this summer? You'll enjoy warm days with lots of sunshine and cool nights. Our topography keeps things temperate most of the time, but you won't find it difficult to work up a bit of a sweat while you're exploring the city or Great Smoky Mountains National Park on foot. So, you'll want to have some cool spots in mind when you want to take a break from the heat. Here's our top 10 list of favorite spots to cool down.
1. Dive into our Downtown Attractions.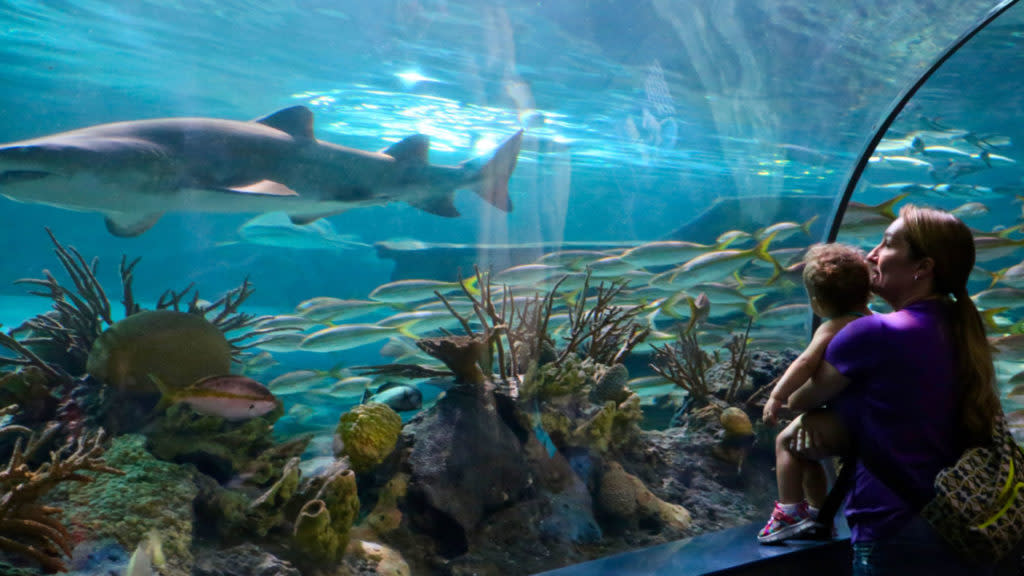 When the sidewalks are sizzling, duck inside one of our cool attractions and breathe a sigh of relief! One of the most popular is Ripley's Aquarium of the Smokies, recently voted the #1 Aquarium by USA Today 10Best. You'll chill out in a hurry—in more ways than one—as you walk under an ocean filled with marine life. You'll find many other air-conditioned attractions here, or check our smartphone app for ideas and directions.
2. Take a Walk.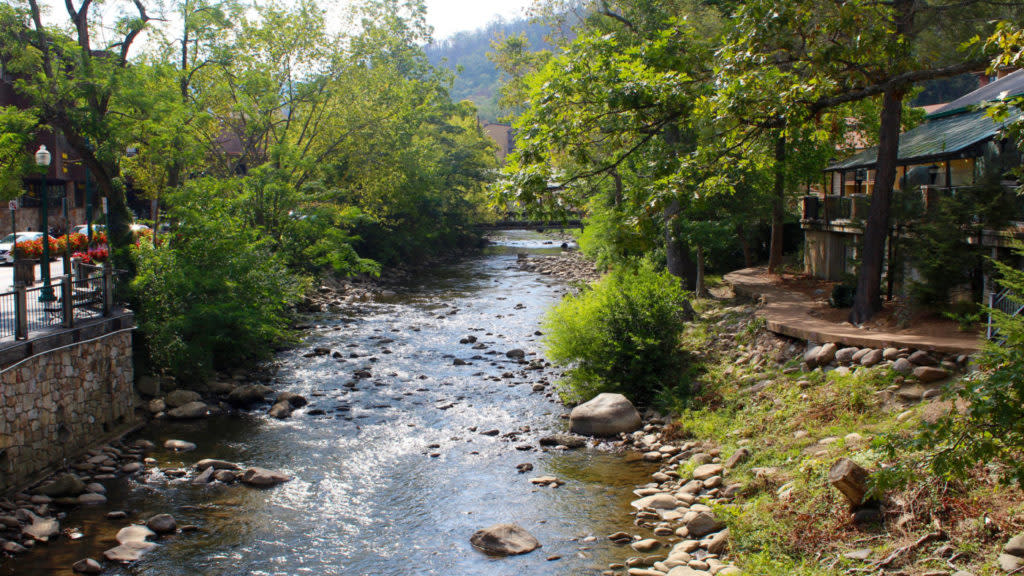 Take a sunset stroll along the Little Pigeon River. You'll remember forever the charm of Gatlinburg as you meander hand and hand along the Riverwalk. Stop along the riverbank, if you want, and dip your toes in! While you're cooling off, you might just ignite some romance.
3. Have a Picnic.

Pick up lunch at one of the many eateries downtown. Drive the Roaring Fork Motor Nature Trail. Find a shady spot to stop and have a cool drink. Or plan an afternoon at Cades Cove. After learning about the history of this mountain region, enjoy your picnic at one of 81 picnic areas. Visit the Great Smoky Mountains National park page here. The city also has three parks perfect for a picnic. Learn more about them here.
4. Try ziplining.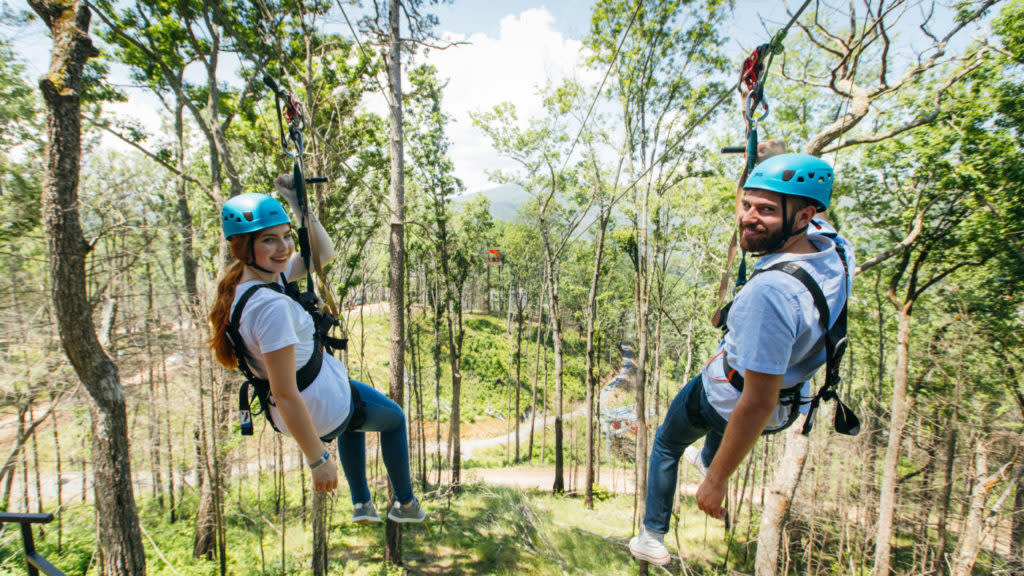 If you like thrills with your chills, give ziplining a try! It's like an airborne guided tour of the Smokies. You'll cool off in a hurry as you whiz along the treetops, and you'll get a unique perspective on our fantastic scenery. Check out Anakeesta.
5. Get some ice cream.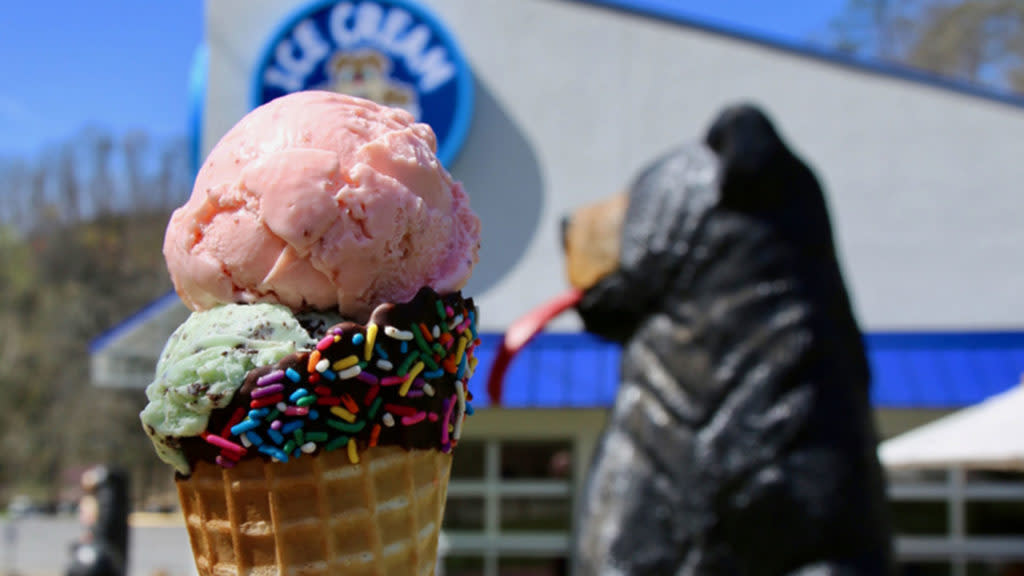 There's nothing more satisfying on a hot day than a velvety-smooth, luscious ice cream cone! You'll find lots of places throughout Gatlinburg where you can indulge—and you should! From places that specialize like Glades Soda Fountain or MadDogs, to pizzerias and other restaurants where you can enjoy a cool, creamy dessert, you'll find them all here. Or consult your Gatlinburg app.
6. Go fishing.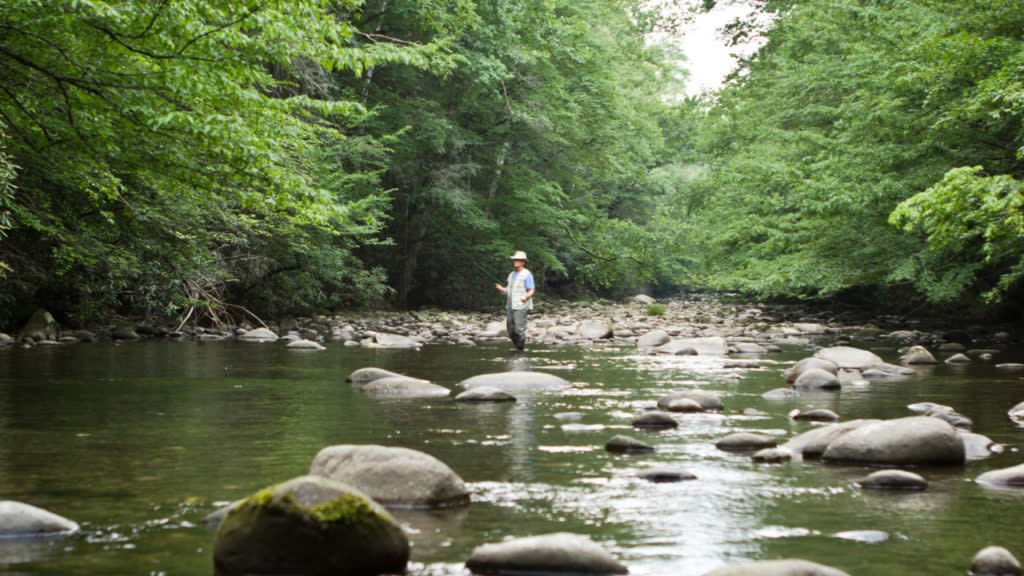 If you love to fish, you've come to the right place. You can cast a line (with the proper license) inside Gatlinburg in our parks and on the Little Pigeon River every day except Thursday when the streams get stocked. Of course, many anglers will want to head for the Great Smoky Mountains, where there are 500 miles of fishable streams. You can purchase a license at the Gatlinburg Welcome Center on 441 South. Find out more about the rules and regulations here.
7. Hike to a waterfall.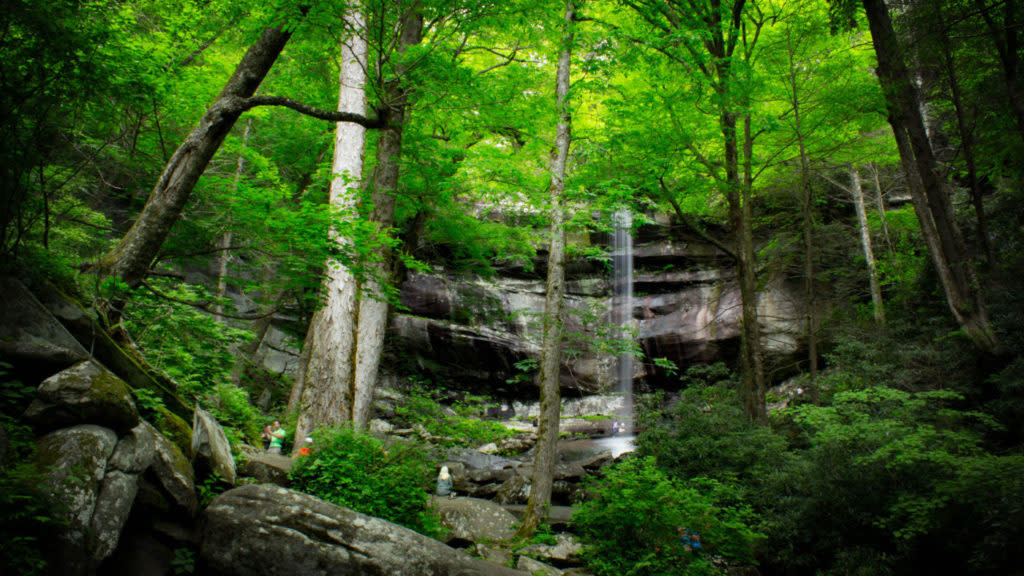 A moderate 2.7-mile walk gets you to Rainbow Falls, the highest single-drop falls in Great Smoky Mountains National Park. It's worth the 5.4-mile round trip. And what could be cooler than standing behind a waterfall? Stroll the Trillium Gap Trail through primeval forests to reach Grotto Falls. It's an easy hike to get to these charming and entertaining falls.  Check out more trails and waterfalls here.
8. Go rafting.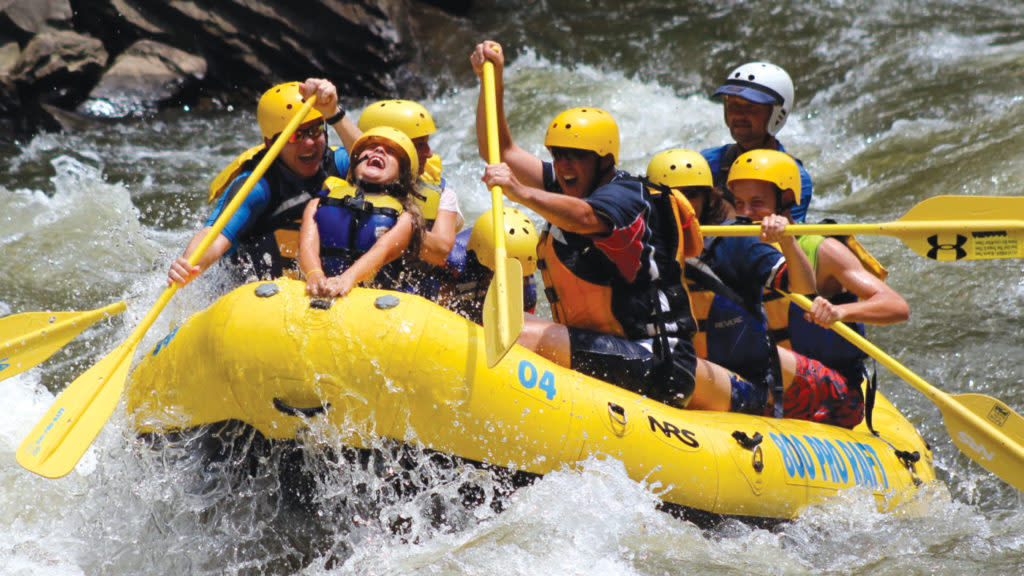 Regardless of your skill level, there's a rafting trip for you. Want to float down the river, enjoy the scenery, take a dip in a swimming hole and broach some mild rapids? The Lower Pigeon is for you. Want more action? You can book a trip as thrilling as your skill level will allow. Find outfitters here.
9. Visit the Arts & Crafts Loop.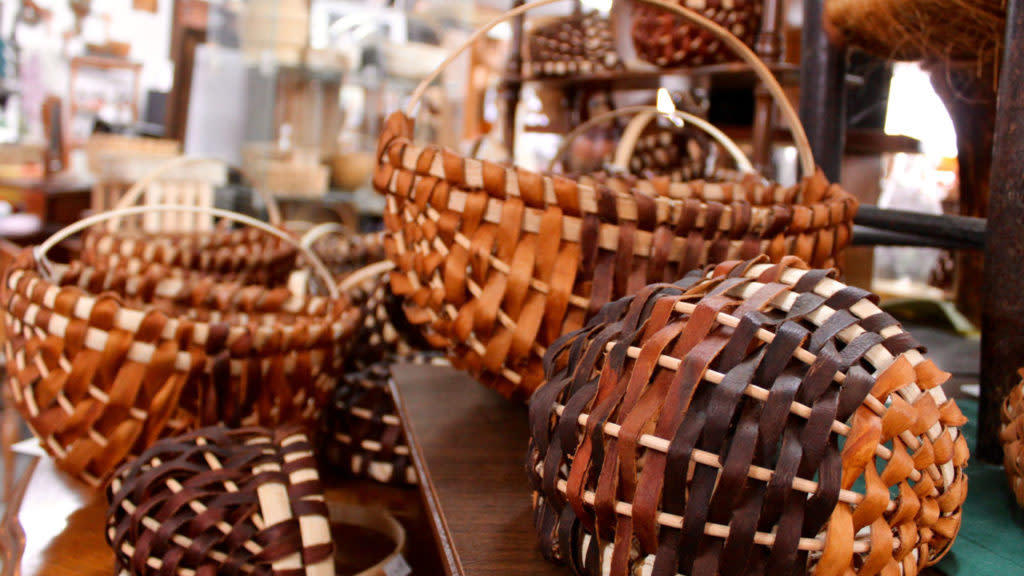 Just a short drive from downtown, this enclave of delightful studios, boutiques, and galleries are filled with original artwork and skillfully made mountain crafts. You can browse from one cool shop to another and stop along the way for lunch or a drink. Explore the loop here.
10. Enjoy Smoky Mountain Tunes and Tales.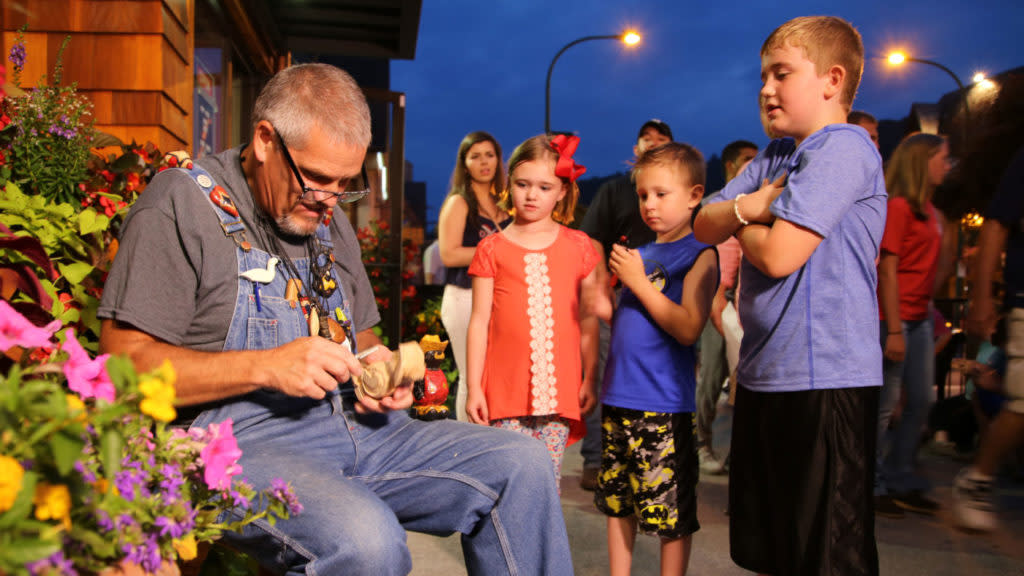 Every evening during the summer, the Parkway transforms into a street festival. Bring the family downtown to enjoy musicians performing old-time mountain music, storytellers and actors portraying historical characters from as far back as the 1800's. Find out more here.