[caption id="attachment_1332" align="alignleft" ]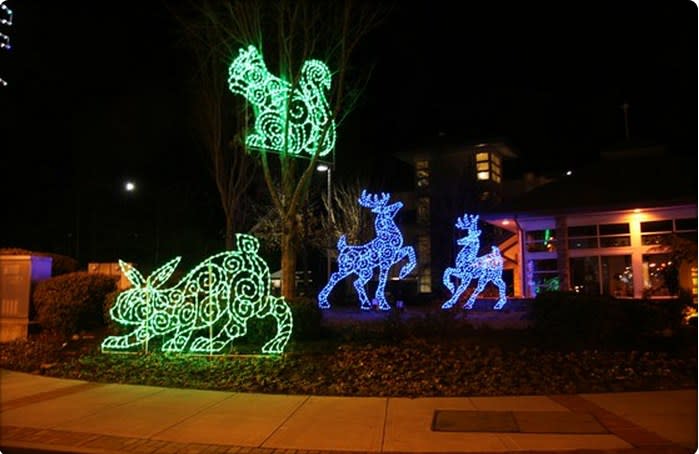 See beautiful lighting displays like this when you celebrate Christmas in Gatlinburg.[/caption]
Many people like to be 'home for the holidays'. That saying doesn't necessarily always apply to people who celebrate their Christmas in their home. It also can mean the start of a family tradition of visiting Gatlinburg over the Christmas holidays. We've put together a short checklist of fun seasonal events and activities that's sure to get you in the mood for an old-fashioned family Christmas in Gatlinburg.
Shop for One-of-a-Kind Christmas Gifts and Decorations
Within a short drive of Gatlinburg you'll find the South's largest Christmas store which offers so many trees, ornaments, wreaths, Nativity scenes, dolls, toys and more. Also be sure to stop in and do some of your shopping at the Arts & Crafts Community. You can easily reach this remarkable collection of shops via the Yellow Trolley line which is available 10 a.m. – 6 p.m. Monday – Saturday in  December. You'll find specialty Christmas cards, unique handcrafted Old World Santas, distinctive ornaments and much more.
Satisfy Your Sweet Tooth
What would Christmas be without some incredible sweet treats? Gatlinburg is home to some of the most delectable confections and pastries you'll find anywhere. Keep an eye out for amazing donuts that melt in your mouth. In fact you won't have to worry about keeping an eye out as the tantalizing aromas of donuts likely will lead you to the shops where you'll find multiple donut types plus cinnamon bread and pastries. Some people like a donut or pastry with their breakfast. Gatlinburg donuts are good any time during the day!
Stop in to a few of the fudge shops located around town for some of the freshest fudge you'll ever taste. Made from creamery butter, imported Dutch cocoa and other premium ingredients, Gatlinburg fudge is handmade and new batches are mixed fresh daily so you know you'll enjoy a treat that's bursting with flavor.
We hope these initial activities whet your appetite for the second post in this series. We'll post it soon to give you more ideas.
What are your favorite Gatlinburg shopping experiences? Share them with us in the comments, on Facebook, on Twitter @travelgburg, or on Google +!