[caption id="attachment_984" align="alignleft" ]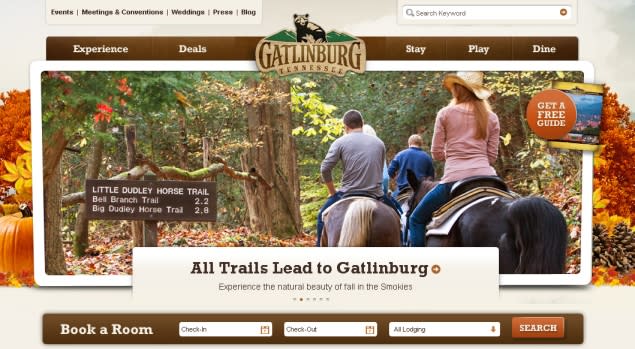 It's easy to book a room on the Gatlinburg.com website.[/caption]
Planning your Gatlinburg trip just got easier! The Gatlinburg Convention and Visitors Bureau is pleased to announce a new online lodging reservation service that you can access right from the Gatlinburg.com website. So while you are reviewing our site's collection of dining, shopping and attractions information you can book a room for your trip at the same time. The new tool is easy to use and when you are ready to book a room, you'll be taken to the lodging partner's website to complete the transaction.
It's a snap to check lowest available rates, sort and filter by travel dates and availability and more. For example, if you are visiting the Gatlinburg website researching romantic getaways and weddings you can immediately check room availability and book rooms without leaving the site. Our new tool will save you time versus checking search engines and other sources, so you can book your rooms fast and get back to planning the rest of your Gatlinburg trip.
Now that the fall season is upon us, we hope you will enjoy the convenience of our new lodging reservation service. Give it a try and let us know what you think about it.
Reduce your Gatlinburg room search time today! It takes just a few clicks right on our site to book your room for a great Gatlinburg vacation!
Have you tried Gatlinburg's new lodging reservation service? Share your experiences with us in the comments, on Facebook, on Twitter @travelgburg, or on Google +!