[caption id="attachment_337" align="alignleft" ]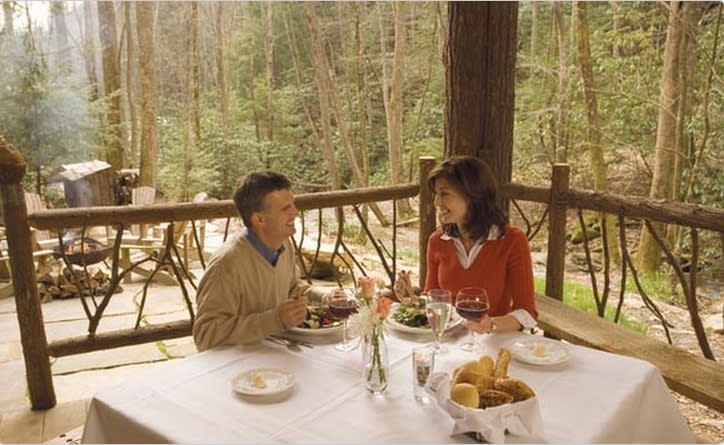 Sweethearts can experience a great meal before they go out and enjoy everything Gatlinburg has to offer.[/caption]
Gatlinburg is definitely made for romance, and there are hundreds of places to visit with your sweetheart in February. Indoors and outdoors, there are enough activities to keep you busy and also quiet getaways for the moments when you want to unwind.
Sweethearts need to keep up their strength before they start a full day visiting all of Gatlinburg's attractions. There are many good places to get a hearty breakfast in Gatlinburg, and pancakes are a favorite food served in several restaurants. One of Gatlinburg's signature foods is fruit, and the apples, peaches and berries grown here are made into some of the most mouth-watering jams and jellies you'll ever spread on a biscuit or toast. So start off with some pancakes, waffles or eggs, spread that jam on thick and fortify yourselves for a fun day ahead.
Start Your Sweethearts Tour at Great Smoky Mountains National Park
First on our sweethearts tour is the Gatlinburg Trail at Great Smoky Mountain National Park. This less than two mile hike starting at the Sugarland's Visitor Center takes you on a picturesque walk along the Little Pigeon River. Walk off that big breakfast and enjoy the beauty of nature while you walk the easy course that includes a foot bridge over the river. This can be a very enjoyable walk as you'll pass through a thick forest, cemetery and homestead. Dogs (on leashes) and bicycles are allowed.
Try Cades Cove for a Romantic Drive
Next you may wish to take to your car for a romantic drive to the Cades Cove Loop Road. This one way road offers an 11 mile trip into the past, where fascinating homesteads from hundreds of years ago dot the landscape. This is a beautiful drive where you can see black bear, deer, turkeys and other wildlife. Sunrises and sunsets offer a misty magic you'll always remember, and be sure to bring your camera to take photos of deer in the meadow. The serene atmosphere is even more prevalent this time of year when most of the tourists are gone. If you go on a sunny day, February is still kind of chilly, but you can bring your lunch and stop to grab a bite and enjoy the peaceful surroundings.
Ice Skate and Dine at Ober Gatlinburg to Wind up Your Day
Even though Ober Gatlinburg's skiing and snow tubing slopes can be a full day's activity in and of themselves, try Ober's indoor ice skating rink if you're looking for a more intimate way to spend the afternoon. Hold your loved one close and while away the afternoon skating. The rink is very large, at 140' x 75', and with 400 pairs of rental skates, it's unlikely you'll ever have to wait to skate.
The night is young, and you've probably worked up an appetite with all that skating. Take your sweetheart to dinner at the Ober Gatlinburg Restaurant and Lounge. This fun casual restaurant can satisfy your big appetite while immersing you within impressive scenery and local hospitality. While you dine on steaks, chicken, pork, pasta, burgers and more take in the views of the ski slopes and mountain scenery. This restaurant also features a large fireplace and live entertainment. As you toast the end of your romantic day, try some Southern Bourbon Pecan Pie to top off your excursions with a taste of good, down home cooking.
It's easy to plan your trip. Download your free Gatlinburg vacation guide now.
Where is your favorite place to take your sweetheart in Gatlinburg? Tell us in the comments, on Facebook, on Twitter @travelgburg, or on Google +!