[caption id="attachment_1917" align="alignleft" ]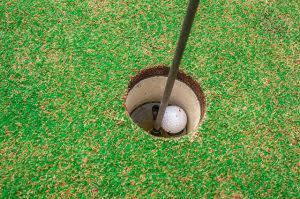 Gatlinburg mini golf is fun for everyone![/caption]
Visiting Gatlinburg assures you of one thing: You'll never run out of fun stuff to do! The great part about vacationing here is that there are so many activities to try; the only problem you may have is having enough time to try them all! Well, then, you'll just have to make a resolution to visit here every year, or more often, if possible.
Even with the variety of indoor and outdoor exploits, you still might at some point be looking for something not too overwhelming, but still active and fun. But what activity would offer all those characteristics, and appeal to young and old alike? Why miniature golf, of course! There are few people who don't love mini golf as it offers so many different challenges, without requiring people to walk long distances or stay out on the course for extended periods of time (unless of course they choose to). It is also a relatively inexpensive activity, which can be perfect if you're traveling with a family or group. We've collected some details on some of the local miniature golf courses so you can judge them for yourself. We won't mention any courses by name so we can stay impartial, but we'll include lots of details to help you decide if you'd like to try miniature golf. So, sharpen up your putting skills and get the gang together - it's mini golf time, Gatlinburg style!
One of the courses has you ride a cart up several hundred feet on a mountain and the course offers several challenges which are fun for kids and adults alike. The course is well-maintained and they offer very affordable rates (young kids free and a senior discount). Only a few people play at a time so you won't have to worry about overcrowding. This unique course gets high marks for the scenery and relatively easy holes so anyone can enjoy putt putt golf success. There are lots of steps involved when you visit this course (once you ride to the top), so some players may not wish to navigate these, if they have mobility issues.
Some of the courses in Gatlinburg have interesting features, like waterfalls and robotic animals that interact with golfers as they play the course. A few courses receive high ratings because they offer a combo deal for people to buy tickets to other attractions that the company owns. Visitors report that one of their favorite things to do at the mini golf courses is to take photos of their kids having fun as most all children (even very young ones) enjoy the course layouts and colorful characters and obstacles.
One of the really great advantages of playing mini golf in Gatlinburg is there are courses that are open year round. Even if it snows, several of the golf companies shovel the courses clear right away, so you can look forward to playing a game anytime. Rain is about the only weather that would prevent you from playing outdoors, and even then, you won't have to cancel your mini golf outing...Gatlinburg also offers indoor mini golf, too! If you're looking for something really different, ask around about the glow in the dark blacklight mini golf course. That is a course kids will really love and adults should get a kick out of it, too.
You'll love this next reason to go mini golfing: Even though it is pretty inexpensive, you can still get additional discounts for groups, military and other offers. So why not go mini golfing soon and enjoy some great fun on a budget!
Have you played mini golf in Gatlinburg? Share your experiences with us in the comments, on Facebook, on Twitter @travelgburg, or on Google +!