Part Three in Our 'Enjoy Gatlinburg in August' Series
[caption id="attachment_807" align="alignleft" ]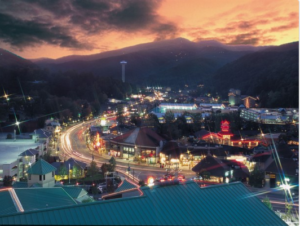 Enjoy Gatlinburg on a summer night in August.[/caption]
With all that Gatlinburg has to offer, anytime of year is a great time to visit. Many people like to enjoy Gatlinburg during their summer vacation. This area offers so many great activities that some people cannot wait to visit, and they arrive in June and July. If you would like to take a Gatlinburg summer vacation, but want to beat the crowds, consider traveling to Gatlinburg in August. If you come in August many of the early summer visitors will already have left, allowing you to see the attractions with a little more elbow room.
The first place to look for savings is on lodging. August is a great time to take advantage of special lodging discounts. Some hotels and cabins extend deals such as 'stay 3 nights and get the 4th free', 'buy two nights, get two nights', 'seven day packages', or they offer special rates for Friday and Saturday nights. There are even some places that discount weekday rates in August, allowing you to save anywhere from 20% or more on your lodging bill. All of these deals usually stipulate that they must be redeemed by August 31.
Coming to Gatlinburg in August, ahead of the visitors who arrive in the fall, will allow you to save money on not only lodging, but dozens of attractions, restaurants, tours and outdoor adventure activities. For example, we wrote a recent post about hiking to Rainbow Falls. This hike can get a little crowded if you don't go early in the day. That is especially true earlier in the summer. In August, especially later in the month, it is somewhat less crowded on this hike.
July is a busy month in Gatlinburg as the Fourth of July Parade and fireworks are popular activities. Gatlinburg celebrates the 4th before the rest of the country with its famous midnight parade. The fireworks cap off the day at 10 pm on the evening of the 4th, providing visitors with a memorable spectacle.
The Great Smoky Mountains National Park will definitely be less crowded in August than it was in June when people thronged there in the evenings early in that month to view the famous synchronous fireflies display. Thousands of people come every year to see the firefly show; so much so that the viewing is regulated and people are directed to how they can access the area to see the fireflies.
If you come to Gatlinburg in August you'll have your pick of fun and adventurous activities to try. The park offers a multitude of ways to spend time close to nature, including auto tours, biking, horseback riding and more.
This Things to Do List from the Park's website provides a variety of vacation ideas. One popular part of the park, Cades Cove, is a definite must-see. Cades Cove is quite popular due to the beauty of its natural landscape and the opportunities to see wildlife. In the spring Cades Cove attracts many visitors due to blooming wildflowers. As the summer winds down Cades Cove is still very beautiful, but should be a bit less crowded. If you are traveling with children you can check this page for August demonstrations and activities for kids in the park. Many of these activities are for Junior Rangers (kids 5-12). Here's more about that and how kids can join.
Download your free Gatlinburg vacation guide now.
Have you visited Gatlinburg in August? Share your experiences with us in the comments, on Facebook, on Twitter @travelgburg, or on Google +!