Still haven't found the perfect Valentine's Day surprise for your sweetheart? If you're still looking for last-minute plans, you might want to consider all of the ways that you can romance your Valentine in Gatlinburg, Tennessee. From cozy cabins to romantic vistas and everything in between, we've got a little something for every couple this Valentines Day season. Here our the 8 most romantic things to do in Gatlinburg this month.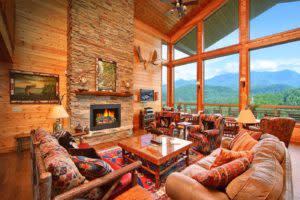 #1.  Rent a Cozy Cabin  One of the best ways to pamper your significant other is to rent a cabin, chalet, or hotel room that will allow you to reconnect, relax, and unwind together. A cabin or chalet will give you the chance to take some time away from the hustle and bustle to get to know each other all over again and experience the bliss of a cozy fireside chalet while it's cold outside.
#2. Plan a Romantic Outing Make Valentine's Day extra special by planning an outing for you and your loved one. Does your loved one like to sit by the fire, explore the mountains, carve up the slopes, or relax in the hot tub? Plan the perfect day around what you and your partner love to do most together!
#3. Go for a Romantic Drive through the Smoky Mountains Take a drive through Great Smoky Mountains National Park with your significant other to experience the natural beauty of the mountains in a quiet and peaceful environment. You can enjoy some amazing views together and maybe even spot some Appalachian wildlife!
#4. Experience a Smoky Mountain Sunset Snuggle up next to your loved one by the fire while taking in a gorgeous Smoky Mountain sunset. There's no better way to spend quality time together and no better place than in Gatlinburg. Our recommendation? Take a ride to the top of either Ober Gatlinburg or Anakeesta and get the best of fireside sitting and majestic vistas while also experiencing the many perfectly fun activities offered at both attractions.
#5. Take Each Other Shopping Gatlinburg is home to hundreds of shops and boutiques. If your significant other loves a good retail adventure, go for a stroll down the parkway and stop by the Village and the Great Smoky Arts & Crafts Community to find some of the finest handmade gifts and treasures around!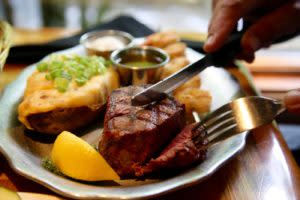 #6. Table for Two Sometimes the surest way to your beloved's heart is through a reservation. From steakhouses to upscale Tex-Mex, Gatlinburg's many area restaurants offer a variety of choices that are perfect for any special occasion and will certainly leave your dinner date impressed. Get inspired by viewing our list of recommended eateries here.
#7. Pick up Some Delicious Treats to Share If there's one place to grab a sweet-tasting gift for your significant other its in Gatlinburg. Our local candy makers have been making confectionery for every type of sweet tooth for more than 50 years. So pick up your loved one's favorite fudge, taffy, or candies at one of our area shops for a delicious surprise they'll love.
#8. Snap a Photo at Our Valentine's Day Booths  In honor of the month of love, Gatlinburg has stationed four different Valentine's Day booths throughout downtown to help visitors create photo-ready moments with their special someones. So grab your sweetheart and make time to visit one or all four booths for a collection of Valentines Day memento you'll treasure.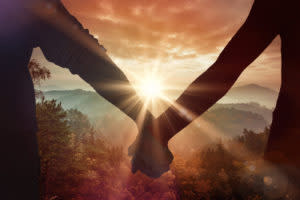 So no matter how you say "I love you" this Valentines Day, consider that sometimes the most meaningful gift you can give your special someone is some quality time together. And no matter how you spend that quality time together in Gatlinburg - whether you are enjoying mountain views, strolling through downtown, or snuggling up by a fire - we guarantee the visit will create memories that will last a lifetime.
Are you planning a romantic getaway to Gatlinburg? Share your plans with us on Facebook, Instagram or on Twitter for more help on planning your next trip to Gatlinburg.