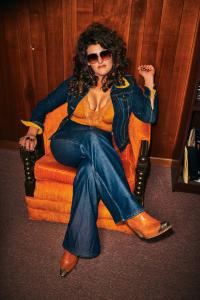 Returning for the 33rd year, Gatlinburg hosts Chili Cookoff Presented by Bush's® Chili Beans as the official kickoff to the Gatlinburg Winter Magic Celebration. The event begins Thursday, November 10 from 5 p.m. to 8 p.m. at the new location of 120 Airport Road. Chili samplings from local restaurants, businesses, and vendors will be available for festivalgoers to enjoy, along with live musical entertainment from country music recording artist and popular personality behind the "Stand By Your Pan" TikTok series, Hannah Dasher.
 

Acclaimed by CMT as one of the "Next Women of Country," Hannah Dasher will headline as entertainment for the festivities. A rising star in Nashville, Dasher has opened for legendary artists such as Hank Williams Jr. Lynyrd Skynyrd, and Reba McEntire. Her breakout single "Girls Call The Shots" hit over 4 Million streams, receiving praise from renowned music publications, Rolling Stone and Billboard. Along with her musical successes, Dasher is also known for her larger-than-life personality on the "Stand By Your Pan" TikTok Series. The platform is followed by over 1.5 million and has received over 18 million likes, as Dasher entertains viewers through her cooking tutorials and musical performances.
Local duo Chance Danison and Shelby Clift will open the entertainment with a performance at 5:30 p.m. Dasher will perform at 6 p.m.
Tickets for Chili Cookoff and kickoff to Gatlinburg Winter Magic are on sale now. General admission tickets with entry at 5:30 p.m. are $15 per person. For early entry, attendees can purchase a ticket to enter the festivities at 5 p.m. for an additional fee. Children 5 years of age and under receive free admission. Due to the popularity of the event, advance ticket purchase is strongly recommended. Tickets can be purchased online here.
Participating vendors include: Margaritaville Hotel & Resort, BBQ865, Ober Mountain, Crawdaddy's, Ole Smoky Moonshine, Crazy Hillbilly Cooking & Adventures, Puckers Sports Grill, Gatlinburg Fire Department, Redhawk Security, Gatlinburg Police Department, Ripley's Aquarium of the Smokies, Holston's Kitchen Catering, Savannah Bee Company, Landshark Bar & Grill, WVLT-TV, and Loco Burro Fresh Mex Cantina.
Sponsors for this event are: Bush's® Chili Beans, Gatlinburg Rotary Club and Pi Beta Phi PTA.
For more information about Gatlinburg's Chili Cookoff and advance ticket sales, visit www.Gatlinburg.com/chili.