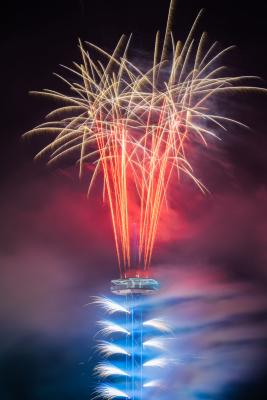 Celebrate the incoming of 2023 in elevated fashion by ringing in Gatlinburg's New Year's Eve Ball Drop and Fireworks Show in the heart of the Smokies. Beginning December 31st, the annual tradition will commence, bringing an anticipatory gathering to Shade Tree Lot for live musical entertainment and a countdown to New Year's Day. The official beginning to the New Year will be celebrated with a spectacular fireworks display from the Gatlinburg Space Needle.
Launching the festivities is MASTERPIECE BAND ATL, complete with vocalists and talented musicians whose lively presence embodies instruments from trumpet to drums, guitar to trombone. Taking the stage at Shade Tree Lot, the dynamic ensemble will bring an exciting end to 2022, performing classic hits from a diverse range of genres including: Contemporary Rock, Disco, Hip-Hop, Soul, Pop, Jazz, and more. The band will begin performing at 10 p.m.
Marking a fresh start to 2023, a fantastic firework show will take place at the stroke of midnight from the Gatlinburg Space Needle. This family-friendly event is free admission and open to the public. For those who cannot attend the celebratory event, the Gatlinburg Convention & Visitors Bureau will host a livestream broadcast of the event on the Visit Gatlinburg Facebook Page.
Masterpiece Band from Atlanta